DJ Envy & DJ Keyz - The NY Transporters Part 2
Submitted by mfizzel on Tue, 04/25/2006 - 5:07pm.
East Coast | DJ Envy | Mixtape Torrents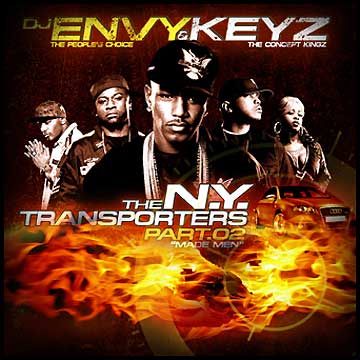 The People's Chioce DJ Envy and The Concept King DJ Keyz are movin'
that mixtape flow from coast to coast with brand new hip-hop tracks from
the game's top cats. Including a new track from Joe Budden, the new DJ
Khaled single uniting Beanie Sigel & Jadakiss, a Swizz-induced Jadakiss
banger + heat from Papoose, Juelz, Rermy Ma, Freeway, Clipse & more.

1 - Joe Budden feat. Coke - Stuntin
2 - DJ Khaled feat. Beanie Sigel & Jadakiss - Problem
3 - Jadakiss feat. Swizz Beatz - It Can Get Ugly
4 - Mobb Deep feat. Young Buck - Give It To Me
5 - Lloyd Banks Freestyle
6 - Remy Ma feat. Papoose, Lil Wayne, Trina & Jae Millz - Conceited RMX
7 - Freeway feat. Lil Jon - Rep Your Click
8 - Mobb Deep feat. 50 Cent & Mary J. Blige - It's Alright
9 - Juelz Santana - Gangsta Music Pt. 3
10 - Lil Wayne - What You Know
11 - Styles P. feat. Swizz Beatz - Who Want A Problem
12 - Prodigy - Got Beef
13 - Juelz Santana - King Of NY
14 - Remy Ma - Fucking Him
15 - NORE - Do Something
16 - Mobb Deep - Hustle
17 - Styles P. feat. Jadakiss - Shots Fired
18 - Jim Jones - Getting Some Head
19 - Cam'ron feat. Hell Rell - War
20 - Clipse Feat. Pharrell - Me Too
21 - Freeway feat. Peedi Peedi - Hood On Froze
22 - DMX - Baby Mutha
23 - Avant feat. Lloyd Banks - Exclusive
24 - Nathan feat. Joe Budden - Round & Round
25 - Rick Ross - I'm Bad
26 - Sha Stimuli feat. Maino - I Don't Care
27 - Sam Scarfo feat. Tony Yayo, Prodigy & 40 Glock - It Is What It Is
28 - Method Man - Who I'm Iz
29 - Redman - Freestyle Outro
How To DOWNLOAD