Big Mike - This Is Why I'm Hot
Submitted by mfizzel on Thu, 08/24/2006 - 4:44am.
East Coast | Big Mike | Mixtape Torrents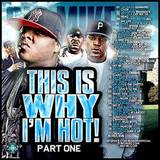 With everybody focusing on the Weezy/Juelz collaboration records this week,
Big Mike brings you a gang of exclusive hip-hop joints from his camp, D-Block.
Bangin' seven (7) new D-Block heaters to get things jumpin' (including a pair
of new Jadakiss records!), Big Mike also brings a slew of Dipset joints (6) to
represent on the Harlem side of things.
All in all, this mixtape features new tracks and freestyles from Jadakiss, 50
Cent, Cassidy, The Game (Dissin' G-Unit), Juelz Santana, Lloyd Banks, Hell Rell,
Stack Bundles, Hot Rod, 40 Cal and more.

1 - Jadakiss - Summer's Over
2 - Jadakiss - Reminisce
3 - Styles P - Off Wit Ya Head
4 - Styles P feat. Akon - All My Life
5 - Sheek Louch, Bucky & Bully - Where Dem Gangstas?
6 - Sheek Louch - Bump This
7 - J-Hood - New York
8 - Cassidy - It Is What It Is
9 - The Game - Its My Turn (Dissin' G-Unit)
10 - 50 Cent - Entourage
11 - Lloyd Banks - Mr. Me Too
12 - Mobb Deep - Gun Play
13 - Jim Jones - U Don't Want It
14 - Juelz Santana - High Definition
15 - Hell Rell - One Blood
16 - Hell Rell - Rugers In The Trunk
17 - 40 Cal - Don't Fuck Wit 40
18 - Kay Slay & Greg Street Feat The Diplomats - Drama Gang
19 - Kay Slay & Greg Street, Cassidy, Fat Joe, Shaq, Sheek & Jim Jones - The Ghetto
20 - Cassidy & Billy The Kid - Give It To Em
21 - 50 Cent & Hot Rod - I Want You
22 - Lloyd Banks & Hot Rod - Work It Out
23 - Fabolous - Street Fam
24 - Stack Bundles - Stick Wit It
25 - DJ Absolut feat. Beanie Sigel, Raekwon & Nucci Reyo - If I Shoot
26 - Red Cafe - Surrounded By Criminals
27 - F.A.M. - Real Boys
28 - Raw Doggs & Verbal Kent - Hunger
29 - Johnta Austin Feat Jadakiss - Turn It Up (remix)
How To DOWNLOAD