Big Mike - Big Boy Game 11 (Hosted By Carmelo Anthony & David Bling)
Submitted by mfizzel on Wed, 02/22/2006 - 7:55am.
Mixtape Directory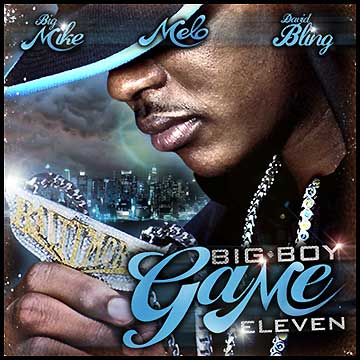 Big Mike has been a busy lately, dropping joints with Sheek & Grafh +
Volume 10.5 of Big Boy Game. Back with Carmelo Anthony aka. Melo,
and reputed jeweler David Bling, Mike brings you The Game's reply to
50 Cent's "Not Rich, Still..." diss + new heat by Young Buck/Spider Loc,
D-Block, Diplomats, Cassidy & Papoose w/ Busta, Lil' Wayne, Fabolous.

1 - Carmelo Anthony & David Bling - All Star Intro
2 - The Game - 360 Bars (The Final Chapter) (Dissin' G-Unit)
3 - Young Buck feat. Spider Loc - Where Im From (Dissin' The Game)
4 - Styles P - My Favorite Drug, pt. 2
5 - Sheek Louch feat. Styles P - We Got Your Money
6 - J-Hood - Last Time Im Gonna Tell You
7 - Busta Rhymes, Cassidy & Papoose - Pyscho, Pyscho
8 - Cam'ron - Get Ya Wet Wipes
9 - Juelz Santana - You Know, You Know
10 - J.R. Writer - The Movement Is Movin (Dissin' Mase)
11 - Hell Rell, J.R. Writer & Chubby - Yayo
12 - J.R. Writer - Come Work For Me
13 - Cam'ron feat. Lil Wayne - Suck It
14 - Chubby feat. Hell Rell - Dip Music
15 - Chubby feat. J.R. Writer - Babalu
16 - Beanie Sigel - Imaginary Gangsters
17 - Fabolous feat. Stack Bundlez - Step Out [produced by Shatek]
18 - Remy Martin - Lights, Camera, Action
19 - Lloyd Banks, Young Buck, Daddy Yankee - Rompe (remix)
20 - DJ Drama, T.I., Busta Rhymes - Cannon
21 - Berg feat. Bun B - Hustle Muzik
22 - Snype Life, Maino, Styles P - Coast To Coast (remix)
23 - Smoke & Numbers feat. Chin Wah - Feel Me
24 - Jaimee Drastik - Tell Me
25 - Note - Gettin Money
26 - V.I.P - Hustlin
27 - Rone - Save My Lunch Money
28 - Wicked - W.I.C.K.E.D
29 - Carmelo Anthony - #15 Outro
30 - David Bling - So Icey Outro
How To DOWNLOAD