Lil Flip & DJ Whoo Kid: Houston is Mine Pt. 2
Submitted by mfizzel on Fri, 01/06/2006 - 11:01am.
Mixtape Directory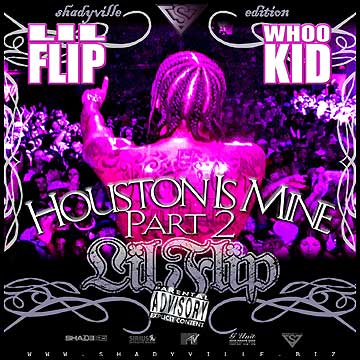 DJ Whoo Kid follows up the MixUnit exclusive Houston...Is Mine with
Lil' Flip's second mixtape in as many weeks. Dropping a new round of
freestyles and exclusives, this Clover G and Shadyville mixtape lets
you know The Freestyle King is runnin' H-Town. Pour a cup of that lean
and wait for the screwed sh*t, but for now, Houston Has A Problem...

1 - Intro
2 - Around Here
3 - I'ma Ride For Mines
4 - Bang Bang
5 - I'm A Warrior
6 - You Can Get It Nigga
7 - Interlude
8 - Diamonds
9 - Head
10 - They Like Me
11 - What It Do feat. Mannie Fresh
12 - We Got That
13 - Interlude
14 - Purple Sprite
15 - I Want It All
16 - Take You There feat. Nate Dogg
17 - Boy feat. Nelly
18 - Outro
19 - La La
How To DOWNLOAD