Big Mike & Evil Empire - Lil Flip: Houston....Is Mine
Submitted by mfizzel on Sun, 12/11/2005 - 3:22pm.
Mixtape Directory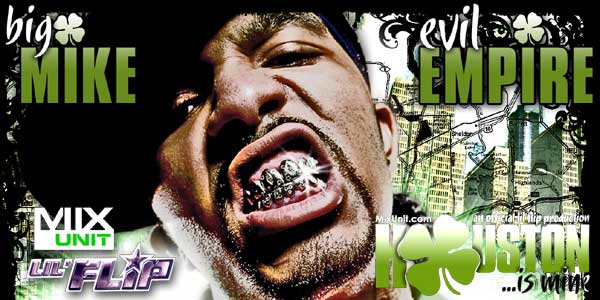 Lil' Flip aka. Fliparachi aka. The Freestyle King aka. The Leprechaun and his Clover G's squad be on that Purple Sprite, grillz gleamin' with them green diamonds, droppin' bangin' new mixtapes. They get alongside The Kid Big Mike and Evil Empire as they lock up this exclusive official mixtape before Flippa drops his new album I Need Mine on Sony Records. This joint features all-new tracks and freestyles from Houston's freestyle freak. To make it official, Flip, Mike & The Empire asked us to get they shine on.

1. Lil' Flip Houston...Is Mine Intro
2. Clover Gs
3. Put This On
4. Purple Sprite
5. Showing Ya Grills Interlude
6. Get Your Shine On
7. They Like Me
8. What It Do feat. Mannie Fresh
9. My Gun
10. Can't Understand
11. Ride For Mine
12. Getting Some Head
13. Change Your Name
14. Be Like I
15. Don't Start No Shit
16. You'z A Trick
17. Put Your Hands Up
18. Sike
19. Lucky Nights Interlude
20. Get This
21. Lil' Flip Houston...Is Mine Outro
How To DOWNLOAD