Evil Empire - Be South Instrumentals #2
Submitted by mfizzel on Sun, 04/02/2006 - 6:48am.
Mixtape Directory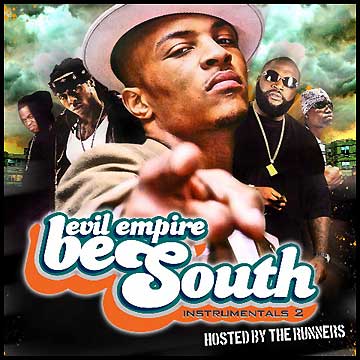 Evil Empire brings you the 2nd edition of their Southern beat mixtape
series Be South Instrumentals and they're joined by The Runners, an
upcoming Southern production duo. This edition features 29 new beats
from tracks by Three-6-Mafia, Scarface, Juvenile, T.I., Dem Franchise
Boyz, GLC, Bubba Sparxxx/Killer Mike, Lil' Flip, Mike Jones/Paul Wall.

1 - The Runners Intro
2 - Smitty - Lil' Haiti
3 - Big Gee feat. Young Jeezy - Smaller Thangz
4 - Scarface feat. Z Ro & Ice Cube - Definition Of Real
5 - Three-6-Mafia - Poppin My Collar (remix)
6 - Bubba Sparxxx - The Other Side
7 - GLC feat. Three-6-Mafia - Clap Your Hands
8 - Juvenile - Loose Booty
9 - Dem Franchize Boyz - Watch Out
10 - Juvenile feat. Trey Songz - Line Of Fire
11 - Scarface - Man Cry
12 - Rick Ross - Hustlin'
13 - Bubba Sparxxx feat. Killer Mike - Claremont Lounge
14 - Bodaiga feat. Lil' Jon & Bun B - We Dont Play Dat
15 - Boo feat. Paul Wall - Down For My Block
16 - Juvenile - Pop You
17 - Brooke Valentine feat. Pimp C - Dopegirl
18 - Kantrell feat. Young Capone - Im Da Weight Man
19 - T.I. - Right Now
20 - Smitty - Im A Hustla
21 - Scarface - Pass The Itchy
22 - Chris Brown feat. Lil' Wayne - Gimmie Dat (remix)
23 - Lil' Wayne - Money On My Mind
24 - Sqad Up - Parking Lot
25 - Juvenile feat. Mike Jones, Paul Wall & UTP - Way I Be Leanin
26 - T.I. - Stand Up Guy
27 - Scarface feat. Lil' Flip, Chamillionaire & Bun B - Platinum Starz
28 - Camron feat. Lil' Wayne - Suck It Or Not
29 - Dem Franchize Boyz - Dont Play With Me
30 - T.I. feat. Ciara - King & Queen
31 - The Runners Sign Off
How To DOWNLOAD