Big Mike & Big Stress - Something For The Radio 15: Dirty South Edition
Submitted by mfizzel on Tue, 03/07/2006 - 6:46am.
Mixtape Directory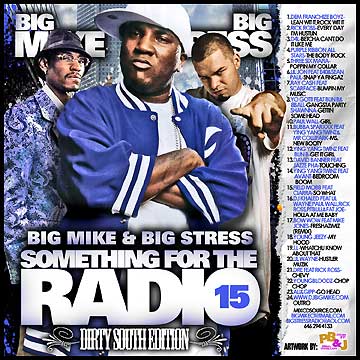 Big Mike and Big Stress team up to break down the hits once again,
but this time they do a dirty south edition. This features all the latest
hit tracks coming from artists like Lil' Wayne, Rick Ross, Paul Wall,
Ying Yang Twins, Dem Franchize Boyz, T.I., Young Jeezy, Three 6
Mafia, Shawna, YoungBloodz, Bun B., D4L, Bow Wow & Mike Jones.

1 - Dem Franchize Boyz - Lean Wit It, Rock Wit It
2 - Rick Ross - I'm Hustlin'
3 - D4L - Betcha Can't Do It Like Me
4 - Purple Ribbon All Stars - Th Body Rock
5 - Three 6 Mafia - Poppin My Collar
6 - Lil' Jon feat. E-40 - Snap Ya Fingaz
7 - Ray Cash feat. Scarface - Bumpin My Music
8 - Yo Gotti feat. Bun B & 8Ball - Gangsta Party
9 - Shawna - Gettin' Some Head
10 - Paul Wall - Girl
11 - Bubba Sparxxx feat. Ying Yang Twins & Mr. Collipark - Ms. New Booty
12 - Ying Yang Twins feat. Bun B. - Get It Girl
13 - David Banner feat. Jazze Pha - Touching
14 - Ying Yang Twins feat. Avant - Bedroom Boom
15 - Field Mobb feat. Ciara -So What
16 - DJ Kaled feat. Lil' Wayne, Paul Wall, Rick Ross, Pitbull & Fat Joe - Holla At Me Baby
17 - Bow Wow feat. Mike Jones - Freshazmiz (remix)
18 - Young Jeezy - My Hood
19 - T.I. - Whatchu Know About That
20 - Lil' Wayne - Hustler Muzik
21 - Dre feat. Rick Ross - Chevy
22 - YoungBloodz - Chop Chop
23 - Ali & Gipp - Go Head
24 - Outro
How To DOWNLOAD