DJ Envy - The Hitlist 16: South Edition
Submitted by mfizzel on Tue, 02/28/2006 - 6:56am.
Mixtape Directory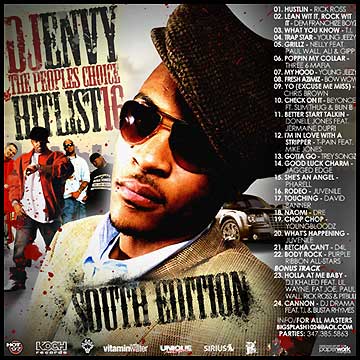 DJ Envy takes a trip down to the Dirty South for his latest Hit List
mixtape featuring the heavy rotation joints getting airplay across the
nation. This Down South edition Hit List features crunk hits from T.I.,
Young Jeezy, Dem Franchize Boyz, Paul Wall & Nelly, Mike Jones,
Three-6, David Banner, Pharrell, Juvenile, Youngbloodz, Lil' Wayne.

1 - Hustlin - Rick Ross
2 - Lean Wit It, Rock Wit It - Dem Franchize Boyz
3 - What You Know - T.I.
4 - Trap Star - Young Jeezy
5 - Grillz - Nelly feat. Paul Wall, Ali & Gipp
6 - Poppin My Collar - Three 6 Mafia
7 - My Hood - Young Jeezy
8 - Fresh Azimiz - Bow Wow
9 - Yo (Excuse Me Miss) - Chris Brown
10 - Check On It - Beyonce feat. Slim Thug & Bun B
11 - Better Start Talkin - Donell Jones feat. Jermaine Dupri
12 - I'm In Love With A Stripper - T-Pain feat. Mike Jones
13 - Gotta Go - Trey Songz
14 - Good Luck Charm - Jagged Edge
15 - She's An Angel - Pharrell
16 - Rodeo - Juvenile
17 - Touching - David Banner
18 - Naomi - Dre
19 - Chop Chop - Youngbloodz
20 - What's Happening - Juvenile
21 - Betcha Can't - D4L
22 - Body Rock - Purple Ribbon All-Stars
23 - Holla At Me Baby - DJ Khaled feat. Lil Wayne, Fat Joe, Paul Wall, Rick Ross & Pitbull
24 - Cannon - DJ Drama feat. T.I. & Busta Rhymes
How To DOWNLOAD