DJ Envy - The Hit List (South Edition) #19
Submitted by mfizzel on Wed, 06/28/2006 - 8:26am.
Dirty South | DJ Envy | Mixtape Torrents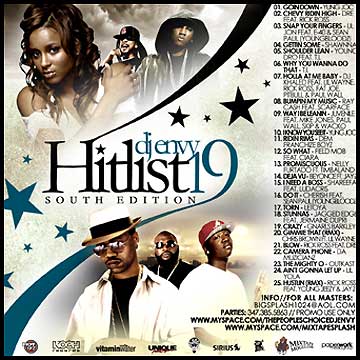 DJ Envy drops another Southern Edition of his Hit List. This features
nothing but the latest hits and heavy rotation joints from the Dirty
South. This has new hit tracks featuring Yung Joc, Dem Franchize
Boyz, Nelly & Timbaland, Juvenile w/ UTP, Mike Jones & Paul Wall,
Outkast, Field Mob & Ciara, Gnarles Barkley, Ray Cash & Scarface,
Shawnna, Young Dro & T.I., Rick Ross w/ Young Jeezy and Jay-Z.

1 - Goin' Down - Yung Joc
2 - Chevy Ridin' High - Dre feat. Rick Ross
3 - Snap Your Fingers - Lil Jon feat. E-40 & Sean Paul (Youngbloodz)
4 - Gettin Some - Shawnna
5 - Shoulder Lean - Young Dro feat. T.I.
6 - Why You Wanna Do That - T.I.
7 - Holla At Me Baby - DJ Khaled feat. Lil Wayne, Rick Ross, Fat Joe, Pitbull & Paul Wall
8 - Bumpin My Music - Ray Cash feat. Scarface
9 - Way I Be Leanin - Juvenile feat. Mike Jones, Paul Wall, Skip & Wacko
10 - I Know You See It - Yung Joc
11 - Ridin Rims - Dem Franchize Boyz
12 - So What - Field Mob feat. Ciara
13 - Promiscuous - Nelly Furtado feat. Timbaland
14 - Deja Vu - Beyonce feat. Jay-Z
15 - I Need A Boss - Shareefa feat. Ludacris
16 - Do It - Cherish feat. Sean Paul (Youngbloodz)
17 - Torn - Letoya
18 - Stunnas - Jagged Edge feat. Jermaine Dupri
19 - Crazy - Gnarls Barkley
20 - Gimmie That (remix) - Chris Brown feat. Lil Wayne
21 - Blow - Rick Ross feat. Dre
22 - Camera Phone - Da Muzicianz
23 - The Mighty O - Outkast
24 - Ain't Gonna Let Up - Lil Yola (Yola Da Great)
25 - Hustlin (remix) - Rick Ross feat. Young Jeezy & Jay-Z
How To DOWNLOAD