DJ Swindle - 80 Cent (50 Cent Meets the 80's)
Submitted by mfizzel on Fri, 01/27/2006 - 9:09pm.
Mixtape Directory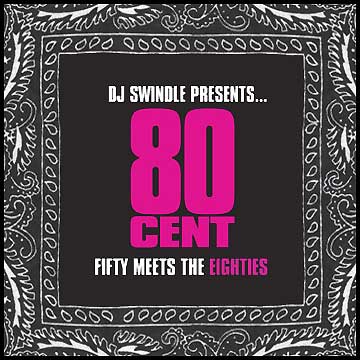 DJ Swindle (the creator of the acclaimed Bobb Deep mash-up) comes
back with another remix original: 50 Cent versus classics 80's beats. As
original as it gets, this interesting (to say the least) combination makes
for a heck of a mixtape. Remixing 50 Cent classics like 'Stunt 101,' 'In
Da Club' + '21 Questions,' Swindle takes you all the way back to the 80s.

1 - Stunt 101 feat. G-Unit b/w INXS "Need You Tonight" (80 Cent remix)
2 - Many Men b/w Aha "Take On Me" (80 Cent remix)
3 - Wanksta b/w A Flock of Seaguls "I Ran" (80 Cent remix)
4 - Shot Down feat. DMX & Styles P b/w Simple Minds "Don't You Forget About Me" (80 Cent remix)
5 - Just A Lil' Bit b/w New Order "Bizarre Love Triangle" (80 Cent remix)
6 - 21 Questions b/w Bangles "Walk Like An Egyptian" (80 Cent remix)
7 - Disco Inferno b/w Depeche Mode "People Are People" (80 Cent remix)
8 - How We Do feat. The Game b/w Human League "Don't You Want Me" (80 Cent remix)
9 - Candy Shop b/w Def Leppard "Pour Some Sugar On Me" (80 Cent remix)
10 - In Da Club b/w Eurythmics "Sweet Dreams" (80 Cent remix)
11 - Patiently Waiting b/w Fugazi "Waiting Room" (80 Cent remix)
How To DOWNLOAD