Rob E. Rob - 50 Cent: The Freak Tape (Hosted By 50)
Submitted by mfizzel on Wed, 03/01/2006 - 7:24pm.
Mixtape Directory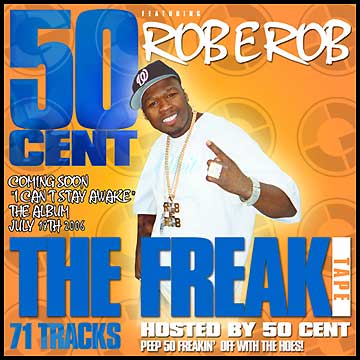 Rob E. Rob puts work into his mixes: he packs joints with 60+ tracks
with ease. Meet 50 Cent. Dude puts in mad work himself. Don't believe
it? Check the tracklist for the man's track record. With a little help from
50 Cent (aka. The Freak) himself, this mixtape breaks down more than
70 tracks, remixes, freestyles, verses and all-exclusive interview clips.

1 - 50 Cent - Intro
2 - Rob E. Rob - Into
3 - 50 Cent - Pimpin'
4 - 50 Cent, Olivia - Best Friend (remix)
5 - Smile 21 Questions - Interlude
6 - B.I.G - Window Shopper (Interlude)
7 - 50 Cent - Window Shopper
8 - 50 Cent - Hustlers Ambition
9 - 50 Cent - Freek Skit Pt.1
10 - 50 Cent - Tainted
11 - 50 Cent - Out Of Control (remix)
12 - 50 Cent - Just A Lil' Bit
13 - 50 Cent - This Is How We Do
14 - 50 Cent - Candy Shop
15 - 50 Cent - Hate It Or Love
16 - 50 Cent - Niggas Be Stunting
17 - B.I.G - Interlude
18 - 50 Cent - Emotional
19 - 50 Cent - Just A Touch
20 - 50 Cent - 300 Shots
21 - 50 Cent - I Run New York
22 - 50 Cent - Piggy Bank
23 - 50 Cent - Back Seat
24 - 50 Cent - 50 Shot Ya
25 - 50 Cent - Gunz Come Out
26 - 50 Cent - Freek Skit Pt. 2
27 - Unpredictable (Interlude)
28 - 50 Cent - Get In My Car
29 - 50 Cent - Get That Money Man
30 - B.I.G - Ready 2 Die (Interlude)
31 - 50 Cent - I'm Suppose To Die Tonight
32 - 50 Cent - When It Rain It Poors
33 - 50 Cent - Dead Man
34 - 50 Cent - I Whip Ya Head Boy
35 - Mobb Deep Album March 28 2006
36 - 50 Cent - Guess Who's Back
37 - 50 Cent - Govenor
38 - 50 Cent - I Wanna Get To Know Ya
39 - 50 Cent - So Good To Me
40 - 50 Cent - In My Hood
41 - 50 Cent - Reebok Freestyle
42 - 50 Cent - Unbelievable
43 - 50 Cent - The Realist
44 - 50 Cent - Gat Man And Robbin
45 - 50 Cent - Dem Not Ready
46 - 50 Cent - Freek Skit - Pt.3
47 - 50 Cent - Disco Inferno
48 - 50 Cent - Outta Control
49 - 50 Cent - Shittin' On Game
50 - 50 Cent - Lucifer
51 - 50 Cent - Kwalib (Em's Freestyle)
52 - 50 Cent - Bump That
53 - 50 Cent - Groupie Love
54 - 50 Cent - Get By
55 - 50 Cent - Do You Understand Skit
56 - 50 Cent - Ask Somebody About Me
57 - 50 Cent - I Warned You
58 - 50 Cent - (I Ain't Playin') Interlude
59 - 50 Cent - Nobody Likes Me
60 - 50 Cent - Get Shot Da Fuck Up
61 - 50 Cent - Aint Fuckin Wit Us
62 - 50 Cent - Fat Bitch
63 - 50 Cent - Freek Skit Pt.4
64 - 50 Cent - South Side G-Unit (Overnight Celebrity)
65 - 50.Cent - Still Trippin
66 - B.I.G - Interlude
67 - 50 Cent - 3 Kings
68 - 50 Cent - Suck Me Off
69 - 50 Cent - I Smell Pussy
70 - 50 Cent - Do You Understand Skit Pt.2
71 - Contact Outro
How To DOWNLOAD