DJ Smallz - Southern Smoke World Tour
Submitted by mfizzel on Mon, 07/10/2006 - 5:54pm.
Dirty South | DJ Smallz | Mixtape Torrents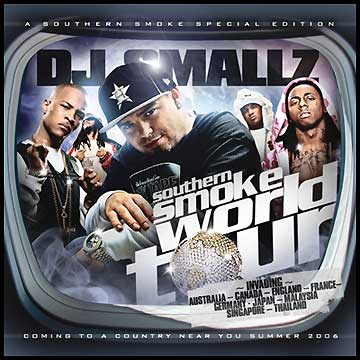 Over the past few years, DJ Smallz has established himself as one of the top
mixtape DJs in the game. Along with that notoriety has come a worldwide fanbase
of crunk, snap and lean supporters. Coming from all over the world, people love
Southern music and the Southern Smoke brand.
Taking his show on the road (plane), DJ Smallz invades a country near you later
in 2006, including Australia, Canada, England, France, Germany, France, Thailand
and more. (Renew your passport fam!)
This mixtape features a collection of Dirty South blends and remixes, including
Southern-style mash-ups pairing T.I. & Jeezy, Three-6-Mafia & Big Boi, Paul Wall
& Nelly w/ Dem Franchize Boyz, Lil' Jon & Busta Rhymes, Ying Yang Twins and more.

1 - DJ Smallz & Friends – 'Southern Smoke' Theme Song
2 - Rick Ross feat. Jay-Z & Young Jeezy – Hustlin' (remix)
3 - Young Jeezy & T.I. – 'Dem Boyz Trap Or Die' (DJ Smallz mix)
4 - T.I. & Young Dro – 'Rubber Band Shoulder Lean' (DJ Smallz mix)
5 - Lil' Jon – 'What U Gonna Do? Get Crunk!' (DJ Smallz mix)
6 - Lil' Jon & Friends – 'We Don't Give A Bia Bia' (DJ Smallz mix)
7 - Lil' Scrappy & Crime Mob – 'No Problem If You Knuck' (DJ Smallz mix)
8 - Trillville & Lil' Scrappy - 'Head Bussin' For Eva' (DJ Smallz mix)
9 - Three-6-Mafia & Project Pat – 'We Run It You Weak Azz Bitch' (DJ Smallz mix)
10 - T.I., Lil' Wayne & Young Jeezy – 'Bring The Fireman Out And Then?' (DJ Smallz mix)
11 - Three-6-Mafia & Big Boi (of Outkast) – 'Stay Fly With That Kryptonite' (DJ Smallz mix)
12 - Dem Franchize Boyz, Paul Wall & Nelly – 'Oh I Think They Like My Grillz' (DJ Smallz mix)
13 - Young Joc feat. Rick Ross & Slim Thug & Jody Breeze – It's Goin' Down (remix)
14 - D4L, Dem Franchize Boyz, Lil' Jon – 'Lean Wit Your Laffy Taffy & Snap' (DJ Smallz mix)
15 - Cherish feat. Young Joc, Chingy & Fabo (of D4L) – Do It, To It (remix)
16 - Ying Yang Twins & Lil' Jon – 'Whistle While You Salt Shake & Get Low' (DJ Smallz mix)
17 - Lil' Jon, Ying Yang Twins, Khia & Busta Rhymes – 'Wait! Touch It' (DJ Smallz mix)
18 - Shawnna feat. Lil' Wayne, Pimp C & Rick Ross – Gettin' Some (remix)
19 - Three-6-Mafia feat. Kanye West & Project Pat – Side To Side (remix)
How To DOWNLOAD