DJ Smallz - Southern Smoke 22 (Chopped & Screwed)
Submitted by mfizzel on Fri, 03/10/2006 - 6:50pm.
Mixtape Directory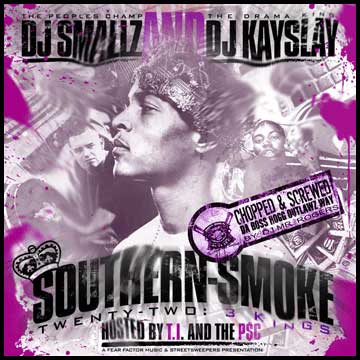 Boss Hogg Outlaw Mr. Rogers gets with DJ Smallz as he brings
NYC Drama to the S.S. mixtape line, introducing Kay Slay to the
chopped & screwed game on this 3 Kingz edition hosted by T.I./
P$C. With screwed tracks from Koopa, Slim Thug, Killer Mike, Lil'
Jone & Scrappy, Papoose, Bun B & T.I., Luda, Jeezy, Lil' Wayne.
1 - DJ Smallz & DJ Kay Slay - A King Size Intro
2 - T.I. & P$C - Southern Smoke This Muthafuckas
3 - Kool G. Rap feat. Killer Mike, Bun B & T.I. - Real OGs
4 - Papoose feat. DJ Kay Slay - Testin' My Gangsta
5 - Chamillionaire, Bump J & Stat Quo - We Blast Off *
6 - Lil' Scrappy feat. Trillville & Lil' Jon - Knock His Ass Out *
7 - Boyz-N-Da Hood feat. Jim Jones & Akon - Soul Survivors
8 - Ludacris feat. I-20 - Get In The Trunk
9 - T.I. feat. Lil' Kim - Get Yours
10 - B.G. feat. Swizz Beatz - What U Lookin' At?
11 - DJ Kay Slay - Public Service Announcement
12 - Lil' Jon feat. Lil' Scrappy & Bo Hagon - You Don't Know
13 - Young Jeezy feat. Juelz Santana - Let Me Show Ya How
14 - Killer Mike feat. Purple Ribbon All-Stars - Body Rock
15 - Slim Thug feat. Boyz-N-Blue - Presidential Shit
16 - Bun B feat. Young Jeezy & Scarface - Gun Talk [Snippet]
17 - Chamillionaire feat. Killer Mike & Pastor Troy - Southern Takeover
18 - Bun B feat. Slim Thug, Mike Jones, Paul Wall, Lil' Flip, Z-Ro, Lil' Keke & Aztek - Draped Up (remix)
19 - Paul Wall feat. Slim Thug, Mike Jones, Bun B, Lil Keke, HAWK & Trae - They Don't Know (remix)
20 - Slim Thug feat. Young Jeezy & Mannie Fresh - Diamonds (remix)
21 - Lil' Flip feat. Mannie Fresh - What It Do
22 - Yo Gotti feat. 8Ball & Bun B - Gangsta Party
23 - Bo Hagon feat. Lil' Jon - Fuck You
24 - Lil' Wayne - Fireman
25 - Juvenile feat. Cool & Dre - Rodeo
26 - T.I. feat. Ciara & Lil' Jon - King & Queen
27 - Young Jeezy feat. Rasheeda - Get This Money
28 - Slim Thug feat. Boyz-N-Blue - Gold Digger
29 - Bubba Sparxxx feat. Ying Yang Twins - Ms. New Booty
30 - Twista feat. Pitbull & Mr. Collipark - Get Down Hit The Floor
31 - Gloria Velez feat. Pitbull & Lil' Jon - Don't 'Cha
32 - Kiotti feat. Mannie Fresh - Walk That Walk
33 - DJ Smallz & DJ Kay Slay - A King Size Outro
How To DOWNLOAD