DJ Smallz - Southern Smoke 25
Submitted by mfizzel on Sat, 03/18/2006 - 9:58am.
Dirty South | DJ Smallz | Mixtape Torrents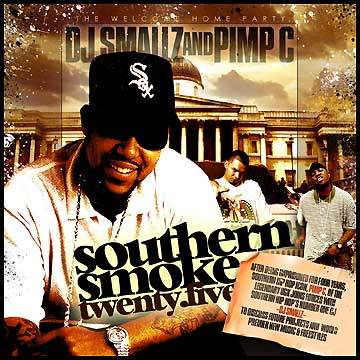 DJ Smallz does it the Southern Smoke way (BIG!) with a mixtape nobody can touch: the first Pimp C mixtape since the UGK legend was released after a four-year incarceration at Harris County jail in upstate Texas. This Houston legend is one of the most respected rappers in Texas and his release paves the way for one hell of a big 2006 for the UGK family.
This mixtape jumps off that campaign, and boasts interviews with Pimp C about his future + new tracks & freestyles. Also featuring Southern heat from Lil' Flip, T.I., Paul Wall, Slim Thug, Young Jeezy, Lil' Wayne, Scarface, Chamillionaire, Juvenile, Trillville, B.G., Keke, Trae, Yo Gotti & more.

1 - Pimp C & Bun B: The Past, Present & Future Intro
2 - DJ Smallz & Pimp C – Pimp C Is Free!!!
3 - Pimp C feat. Bun B & Paul Wall – Hold Up [Pimp C's first single]
4 - T.I. feat. Bun B & Pimp C – Front To Back [full version]
5 - Lil' Flip feat. Bun B & Pimp C – You'z A Trick (remix)
6 - Slim Thug – Poppin' My Boss Hogg Collar
7 - Pimp C – It's Southern Smoke You Bastards!
8 - T.I. – Right Now (Prod by Scott Storch)
9 - Young Jeezy feat. Red Café – Ya Dig
10 - Big Gee feat. Young Jeezy – Small Thangz
11 - Pimp C – Too Many Names For This Game
12 - Lil' Wayne feat. Currensy & Mack Maine – G Shit
13 - Scarface feat. Lil' Flip, Bun B & Chamillionaire – Stars
14 - Lil' Keke feat. Pimp C, Bun B & Paul Wall – Chuck Up Da Deuce
15 - Cory Mo feat. Pimp C, Bun B & Slim Thug – If It Ain't Me (remix)
16 - Pimp C – Pour It Up, Roll It Up & Line It Up
17 - Yo Gotti feat. Slim Thug & Lil' Keke – Lean On Me
18 - Juvenile feat. Mike Jones & Paul Wall – Way I Be Leanin'
19 - Chamillionaire feat. Trae & Krayzie Bone – Ridin' Dirty (remix)
20 - E-40 feat. The Game & Lil' Jon – Tell Me When To Go (remix)
21 - Pimp C – The Pimp C & Bun B Movement Continues
22 - Trillville feat. Three 6 Mafia & Project Pat – Hee Haw
23 - Bubba Sparxxx feat. Lil' Wayne & Baby – Tell Me
24 - Bone Crusher feat. Bun B – Walk That Walk
25 - T.I. feat. B.G. – Where You At Wit It
26 - Pimp C – The Real King Of The South
27 - Play-N-Skillz feat. Mannie Fresh – Who Da Shit
28 - Paul Wall feat. Fabolous & Red Café – Bling Blaow (remix)
29 - Pimp C feat. Mike Jones & Paul Wall – I'm N Luv Wit A Stripper
30 - 8Ball & MJG feat. E-40 & Too Short – Big Trick
31 - V12 Boyz [Pimp C, Boosie & Webbie] – Freestyle
32 - DJ Smallz & Pimp C – Thank You Outro
How To DOWNLOAD