DJ 31 Degreez - Texas Massacre #7: Texas' New Breed (Chopped & Screwed)
Submitted by mfizzel on Sun, 03/19/2006 - 10:11pm.
Mixtape Directory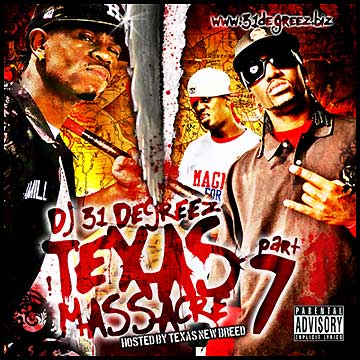 DJ 31 Degreez brings you the lucky 7th edition of the major mixtape
series TX Masscre as he brings you the New Breed edition with the help
of hosts Chamillionaire, Magno and Kiotti. Bringin' that lean, this mix
pumps all those Texas flows from the Lonestar legends Paul Wall, Mike
Jones, Slim Thug & BHO, Lil' Flip, Scarface, Bun B, Koopa, GRiT Boys.
1 - Kiotti - Swangin [produced by CHOPS]
2 - Paul Wall, Slim Thug, Killa Kyleon - Grillz
3 - Chamillionaire & Ace Deuce - Block Star
4 - Slim Thug & Boss Hogg Outlaws - Houston Is Ours
5 - Lil' Flip, Big Pokey, Lil' Keke - Starched & Cleaned
6 - Paul Wall - Luv It Mane
7 - Kiotti & Lil' Wayne - Gangster
8 - Mike Jones & Busta Rhymes - I Know Y'all Mad
9 - Jokaman, Killa Kyleon, Kiotti - It's Going Down
10 - Slim Thug, Bun B, Beyonce - Check Up On It (remix)
11 - Scarface - I Never Snitch
12 - Kiotti - I Stay Pushin
13 - Mike Jones - American Dream
14 - Magno - Ooooh
15 - Slim Thug & Busta Rhymes - Get That Gaup
16 - Lil' Flip, Sqad Up, MJG - Can't You Tell
17 - Paul Wall, 50 Cent, Funkmaster Flex - Just A Touch (remix)
18 - Bun B, Pimp C, Young Jeezy, Jay - Z - Get Throwed
19 - Lil' Flip - I'm Leaning Right
20 - Chamillionaire & Krayzie Bone - Ridin Dirty
21 - Paul Wall & Missez - Love Song
22 - Kiotti - Listen Baby
23 - Natureboy - For The Ladies
24 - Bun B & Smoke D Feat. David Banner - Shake It For Daddy (not on album)
25 - Grit Boys - Live On The Corner
26 - 3rd Degree - Buck
27 - Magno - Raised Your Cups Up
28 - Bugsy - Elbow Room
29 - Lil' Flip, Lil' Wayne, Baby - Get Yo Shyne On [produced by Mannie Fresh]
30 - Top Dawg - Hoes Loving Me
31 - Kiotti & DJ 31 Degreez - Texas Massacre #7
How To DOWNLOAD