Wally Sparks - Texas Militia #2
Submitted by mfizzel on Sun, 05/14/2006 - 9:52am.
Mixtape Directory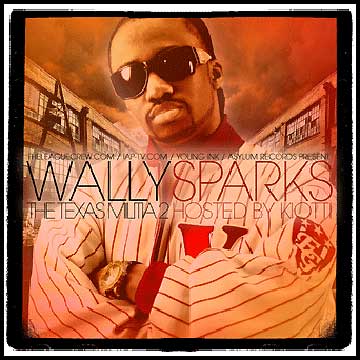 Wally Sparks straps on Nike ostrich joints, jumps in his slab and rolls
his mixtape machine down to Texas for the sequel starring Kiotti and
Texas' mixtape all-stars. This mixtape features nothing but talent from
the Lonestar State, including verses, freestyles and remixes from the
likes of Slim Thug, Cory Mo & Paul Wall, UGK, Jokaman, Chalie Boy,
Magno, Lil' Keke, Trae, Killa Kyleon/The Boyz In Blue, Devin The Dude.

1 - Kiotti Intro
2 - Kiotti feat. Lil' Wayne - Gangster (Sparks Fly remix)
3 - Slim Thug feat. Lil' Wayne & Busta Rhymes - It Ain't Over
4 - Cory Mo feat. Paul Wall, K-Ruger (R.I.P.) & T.I. - Drive Slow (Dirty South remix)
5 - Kiotti - Phone Song (Minute Plan)
6 - Rapid Ric feat. Chalie Boy & Magno - Pullin Up
7 - Kiotti - Ghetto Star
8 - Kiotti Speaks
9 - Coughee Brothaz & Devin The Dude - We Gettin High
10 - Max Minelli feat. Paul Wall - Find Me A Freak
11 - Kiotti feat. Mannie Fresh - Walk That Walk (produced by Mannie Fresh)
12 - Kiotti - Raw Spittin Freestyle
13 - UGK feat. Paul Wall - Hold Up
14 - Berg feat. Bun B - Hold Up
15 - Jokaman feat. Pimp C - Feel Good
16 - Kiotti Speaks
17 - DJ DMD - 25 Lighters
18 - Magno feat. Fabolous & Paul Cain - Smokin & Sippin (produced by CHOPS)
19 - Yung Chill feat. Kiotti - Welkom 2 Da Souf
20 - Lil' Keke feat. Paul Wall & UGK - Chunk Up The Deuce
21 - Boyz N Blue feat. Slim Thug - Back 2 Front
22 - Jokaman feat. Kiotti & Killa Kyleon - It Go Down (remix)
23 - Kiotti - Presidential Flow
24 - Cory Mo feat. Savage & Trae - Ain't Hard To Find
25 - Trae – Problems
26 - Kiotti Outro
How To DOWNLOAD