DJ Chuck T - All Star Down South Slangin' #23
Submitted by mfizzel on Fri, 02/24/2006 - 3:21pm.
Mixtape Directory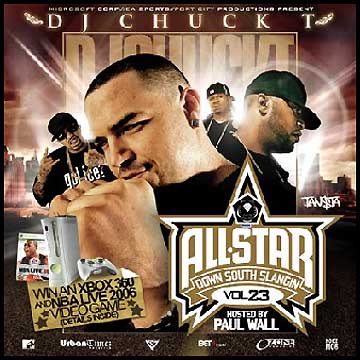 DJ Chuck T takes you to H-Town for this All-Star edition mixtape hosted
by a Houston legend Paul Wall. Along with the People's Champ, this mix
brings you the hottest new tracks & freestyles coming out of the South,
including joints by Pimp C & Bun B, T.I., Swishahouse, 8Ball & MJG, Lil'
Flip, Slim Thug, Jokaman, Smitty, P$C, Da Wreckin' Yard, Mr. Collipark.

1 - Paul Wall Intro
2 - Down South Slangin' All-Star Intro - Kiotti
3 - Chunk Up A Deuce - Swishahouse feat. Lil' Keke, Paul Wall & UGK
4 - Get Throwed (remix) - Bun B. feat. Pimp C & Trae (all-new verses)
5 - Swang (remix) - Trae feat. Pimp C
6 - Down South Slangin' All-Star Flow - Magno
7 - Feels Good - Jokaman feat. Pimp C
8 - We Ride - Lil' Flip feat. Nate Dogg
9 - I Told Ya So - T.I.
10 - Rubber Band Banks - Young Dro of P$C
11 - Paul Wall Interlude
12 - Day In Da Life- Tum Tum of DSR
13 - Yeah - Big Kuntry Of P$C
14 - Blowin' On Jamaica - Smitty
15 - I Don't Like the Look of It - Backwoodz Boys
16 - Tussle (remix) - Big Tuck feat. Tum Tum & Slim Thug
17 - Yes Sir - Short Dogg (produced by DJ Toomp)
18 - Look At My Diamonds - The Aphilliates Present Attitude
19 - Stay Flow - $park Dawg feat. Young Texxus
20 - Take Off - Plies (produced by Mr. Collipark)
21 - Down South Slangin' All-Star Flow - Wrecking Yard
22 - Touch Ya Toes - Rasheeda
23 - Make It Rain - Eightball & MJG feat. Jakk Boyz
24 - Ain't The Only One - Macboney of P$C
25 - The Shit - Roam Bad Daddy
26 - Words of A Champ - Paul Wall
27 - Ridin' (remix) - Chamillionaire feat. Trae
28 - Im A Hustler - Smitty feat. Akon
29 - Tell Me - Lil' Flip
30 - Girl - Paul Wall
31 - Huh Bruh - Chyna White feat. Yo Gotti
32 - Foot Action - Max Minelli aka Max Pain
33 - Dream Last Night - Aztek
34 - Its Paul Wall Baby - Paul Wall
How To DOWNLOAD