DJ 31 Degreez - Texas Massacre Vol. 8
Submitted by mfizzel on Sun, 03/05/2006 - 3:08pm.
Mixtape Directory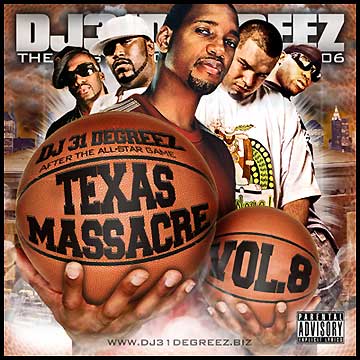 31 Degreez is grippin' grain after the 2006 H-Town All-Star game as he
drops the 8th edition of his mixtape tour of the Lonestar state of Texas.
Featuring the best TX has to offer, this CD premieres tracks/freestyles
from Chamillionaire, Slim Thug & Bun B, UGK w/ Z-Ro & Jeezy, Magno,
Paul Wall, Trae, Jokaman, GRiT Boys, Kiotti, Lil' Flip, Scarface, Killa K.

1 - Pimp C - Welcome Back
2 - Tracy McGrady Intro
3 - Kiotti & Silky Blaq - All Work
4 - Chamillionaire - Get Ya Ball On
5 - Bun B, Paul Wall, Lil' Keke, Scarface, Young Jeezy - Pushin' (Texas remix)
6 - Slim Thug, Killa Klyeon, Bun B - Back 2 Front
7 - Paul Wall, Lil' Keke, Archie Lee - They Don't Know (remix) (new verses)
8 - T.I., UGK , Mannie Fresh - Front, Back, Side 2 Side
9 - Kiotti & Akon - No Chances
10 - Magno - Wood Wheel
11 - UGK, Z-Ro, Young Jeezy, Roam Bad Daddy - Get Throwed (All-Star remix)
12 - Slim Thug, Chamillionaire, Killa Kyleon - Candy Paint Dripper
13 - Kiotti & Gotti - Livin My Life (produced by Mannie Fresh)
14 - Grit Boys & Yung Redd - Still Draped
15 - Killa Kyleon - Killa Throwed Season
16 - Swishahouse, Paul Wall, Lil' Keke, Bun B, Pimp C - Chunk Up A Deuce
17 - Jokaman - Diamonds
18 - Trae, Pimp C, Hawk, Fat Pat - Swang remix
19 - Kiotti & Silky Blaq - Never Say
20 - Chamillionaire & Jamie Foxx - Can I Take You Home (remix)
21 - Pimp C & Missez - Love Song (remix)
22 - Question - Massacre Body Rock
23 - P$C & Mike Jones - Ol School
24 - GT, Kiotti, ESG - You Don't Wanna (remix)
25 - Lil' Flip Freestyle
26 - Natureboy - I'm That Massacre (produced by David Banner)
27 - Magno - Leaning With The Tippin
28 - Kiotti - Southwest Hustler
29 - DJ 31 Degreez - Great Day In Texas Outro
How To DOWNLOAD