DJ Obscene - Houston...We Have A Problem Vol. 3 (Hosted By Bun B)
Submitted by mfizzel on Sun, 06/18/2006 - 2:41pm.
Dirty South | DJ Obscene | Mixtape Torrents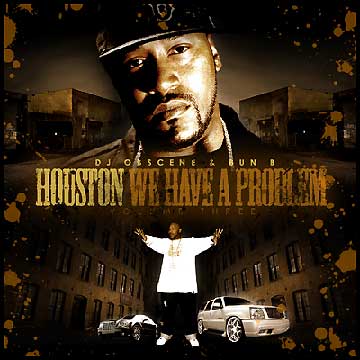 DJ Obscene teams up with H-Town royalty Bun B aka. one-half of the
legendary H-Town group UGK, to bring you the third installment of the
713 roll-call Houston...We Have A Problem. Throwing more than 30 of the
713's hottest cuts in rotation, this mixtape brings you all-new music from
Slim Thug & Killa Kyleon, Pimp C, Chamillionaire, Magno, Paul Wall/GRiT
Boys, Mike Jones, Trae, Chingo Bling, Lil' Keke, Wreckin' Yard, Cory Mo.

1 - Bun B - Houston We Have A Problem #3 Intro
2 - Pimp C feat. Bun B & Mike Jones - Pourin' Up (Obscene blend)
3 - Cubo feat. Pitbull - Rock Bottom
4 - Pitbull Checks In
5 - Slim Thug feat. Killa Kyleon & PJ - Recognize A Playa
6 - Pimp C feat. Lil' Keke & POP - Knockin' Doorz Down
7 - Bun B - Do Ya Thang Freestyle (Obscene blend)
8 - Shawnna feat. Pimp C, Pitbull & Rick Ross - Gettin' Some Head (remix)
9 - Ty Cobb feat. Bun B & Rick Ross - On My Grind (produced by J-Rock)
10 - Bun B - Head Of The Table Interlude
11 - DJ Khaled feat. Trick Daddy, Pitbull & Rick Ross - Born And Raised (produced by The Runners)
12 - Cory Mo feat. Lil' Keke - Pushin'
13 - Rick Ross & Bun-B - Money On My Mind Freestyle (Obscene blend)
14 - Chamillionaire feat. Bun B & Pimp C - Ridin' Dirty (remix)
15 - Bun B - Coming Soon Interlude
16 - Paul Wall & The Grit Boys - Bang Freestyle
17 - Magno Checkin In
18 - Killa Kyleon & Magno - Whip Ya Head Freestyle
19 - Big HAWK feat. The Grit Boys - Draped Up Freestyle (R.I.P.)
20 - Bun B - R.I.P. Dedication
21 - Rick Ross - Get Throwed Freestyle
22 - Trae feat. Three 6 Mafia & Paul Wall - Cadillac
23 - Smitty feat. Chingo Bling- You Already Know (produced by Beat Kings)
24 - The Grit Boys - Goin Down Freestyle
25 - Rick Ross Holdin It Down
26 - Too Short feat. Pimp C & Rick Ross - Money Maker (produced by Lil' Jon)
27 - Cubo feat. Chingo Bling & Jimmy Chocolate - M.I.A.M.I. (remix) (produced by J-Rock)
28 - GMB feat. Kiotti & Spark Dawg - 5% Tint
29 - Cory Mo Checks In
30 - Chamillionaire & Cory Mo - Boo Ya Freestyle
31 - Big Nick & Mr. Kaila (of Da Wreckin' Yard) - 20 Inches (cuts by DJ Lil' ' Steve)
32 - 50/50 Twin Checkin In
33 - 50/50 Twin feat. Lil' O - Takeover
34 - Bun B Outro
How To DOWNLOAD