DJ Chuck T (Hosted by Trae, Kiotti & Spark Dawg) - D.S.S. Class of 2K6 (Texas Edition): Street Hustlenomics
Submitted by mfizzel on Thu, 07/06/2006 - 9:03am.
Dirty South | DJ Chuck T | Mixtape Torrents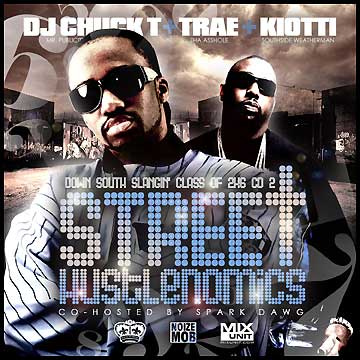 DJ Chuck T & The Mix Unit give you the 2nd disc (of four) in the Down South
Slangin' Class of 2K6 series with this Street Hustlenomics mixtape. Profiling
the hottest young talent Down South, this special mixtape series takes a trip to
the great state of Texas.
In the land of lean, candy-paint, platinum grillz, Screw music and that oil,
Chuck T gets his Simon Cowell on and corrales the hottest new talents on the
verge of big things in Texas hip-hop. We're just along for a little vacation.
Hosted by the three of the Lonestar's next-ups Trae, Kiotti and Spark Dawg,
this edition features the hottest talent from H-Town to San Antonio to Fort
Worth to Galveston, including Tum Tum, GRIT Boys, Killa Kyleon & PJ, Magno,
King Mello, Yung Redd, Ryno, Jokaman, Mr. Kaila & 50/50 Twin, Rasaq, Yung Chill
and more.

1 - Trae Intro
2 - In The Hood - Trae
3 - Hit Me On My Sidekick (Pt. 2) - Spark Dawg
4 - Capirce Muzik - Tum Tum
5 - Make Urself Seen - GRIT Boys
6 - Mike Jones Introduces King Mello
7 - The Truth - King Mello feat. Mike Jones
8 - Im The Man (RMX) - Trae feat. Boss & Young Joc
9 - Feels Good (RMX) - Jokaman feat. Spark Dawg
10 - Im From Houston - Yung Chill feat. H.A.W.K
11 - Trae Interlude
12 - Hustlerz Muzik - P.J. (of The Boss Hogg Outlawz)
13 - New & Improved - Kiotti
14 - Arrogant Shit - Killa Kyleon (of the Boss Hogg Outlawz)
15 - See Me In The Streetz - Magno, Ryno & City Boy ( What It Dew Family)
16 - Perfect Team - Tum Tum feat. Mike Jones, Paul Wall and Magno
17 - Kiotti Intro
18 - Swangin' - Kiotti
19 - Da L.N.I.C - Lil' Ronnie (of DSR)
20 - I Don't Need - Trae feat. Z-Ro
21 - Da Fan - Kiotti
22 - Do Da Damn Thang My Way - Kiotti
23 - Nayumsayn - Rasaq
24 - How The Hustlaz Do It - Yung Redd feat. Lil' KeKe and Webbie
25 - Sellin' White - Mr. Kaila feat. 50/50 Twin
26 - Bout Whatever - Kiotti feat. Big Scoob
27 - Kiotti Interlude
28 - Playaz From The South - Kyle Lee feat. Liveola & A-Train (3rd Degree)
29 - No Stress - Wreckin' Yard
30 - Cadillac - Trae feat. Three Six Mafia and Paul Wall
31 - Super Flow - Big Sid feat. Grit Boyz
How To DOWNLOAD