DJ Smallz - Southern Smoke Ultimate Freestyle Collection
Submitted by mfizzel on Thu, 12/01/2005 - 3:58pm.
Mixtape Directory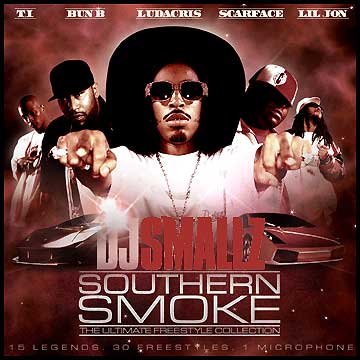 DJ Smallz hand-picks the 29 best freestyles from Southern Smoke's
first 20 mixtapes in the SS series with exclusive freestyles from all the
top rappers in the South as well as the number one mixtape series in the
South. Freestyles by T.I., Slim Thug, Bun B, Luda, P Wall, Pitbull, Lil'
Jon, 8Ball & MJG, B.G., Stat & Buck, Three-6-Mafia, Juvie & Webbie.

1 - Luther "Uncle Luke" Campbell Intro
2 - Young Jeezy feat. Stat Quo – Freestyle
3 - T.I. feat. Lil' Scrappy & Stat Quo – Freestyle
4 - Stat Quo feat. Bun B & Busta Rhymes – Freestyle
5 - Slim Thug feat. Cam'ron, Killa Kyleon & Jim Jones – Freestyle
6 - Killa Kyleon feat. Mike Jones, Paul Wall & Bun B – Freestyle
7 - Cory Mo feat. Willie D, Killa Kyleon & Lil' Keke – Freestyle
8 - Bun B & The MddlFngz feat. Chamillionaire – Freestyle
9 - Scarface feat. Bun B & Chamillionaire – Freestyle
10 - Slim Thug feat. Paul Wall & Trey Songz – Freestyle
11 - Paul Wall & Mike Jones – Freestyle
12 - T.I. & P$C – Freestyle
13 - Boyz-N-Da-Hood – Freestyle
14 - Lil' Jon & Pitbull – Freestyle
15 - Young Buck – Freestyle
16 - Killer Mike – Freestyle
17 - 8Ball & MJG – Freestyle
18 - Lil' Flip – Freestyle
19 - Paul Wall – Freestyle
20 - Jermaine Dupri – Freestyle
21 - Ludacris – Freestyle
22 - T.I. – Freestyle
23 - Juvenile & UTP – Freestyle
24 - B.G. & Chopper City Boyz – Freestyle
25 - Lil' Wayne & Young Money Ent – Freestyle
26 - Pitbull feat. Dirtbag & Jacki-O – Freestyle
27 - Trick Daddy feat. Paul Wall – Freestyle
28 - Three 6 Mafia feat. NORE – Freestyle
29 - Webbie feat. Jermaine Dupri – Freestyle
30 - David Banner feat. Snoop Dogg – Freestyle
How To DOWNLOAD