DJ Coolbreeze - WGM 11.5 + Da Official Mixtape (2CD)
Submitted by mfizzel on Sat, 04/08/2006 - 7:42am.
Mixtape Directory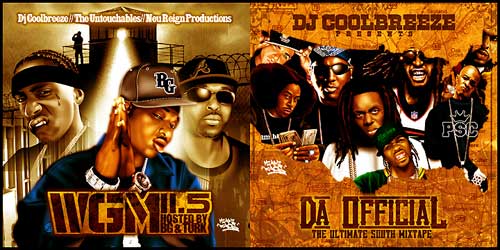 DJ Coolbreeze brings you this special Dirty South
double mixtape special WGM (World's Greatest Mixtape) edition.
With one mixtape of Southern exclusives & recent bangers hosted by
B.G. and Turk and another mixtape of the hottest Dirty South
blends and exclusives, this pair of mixtapes is definitely
worthy of the title World Greatest Mixtape.
FEATURING TRACKS & BLENDS FROM:
Young Jeezy, Project Pat, Paul Wall & UGK, Bubba Sparxxx,
Big Big & Killer Mike, Trillville, Lil' Wayne, B.G. Webbie, Rick
Ross, T.I., Young Capone, Tiwsta, MJG, Three-6-Mafia, Gucci
Man, D4L, Dem Franchize Boyz, Crime Mob, Ying Yang Twins
AND MORE.


WGM 11.5 (Hosted by B.G. & Turk)
1 - Intro - DJ Coolbreeze
2 - Doin Numbers - Fats feat. Maceo
3 - Rubbergirl - Marc DeCoca feat. Young Dro
4 - Turk Checks In Live from the Pen
5 - Real Down Here - Turk feat. Doc Holiday
6 - Slow It Up - DJ Unk
7 - Hee Haw - Trillville feat. Project Pat
8 - Couple Grand - Yung Joc
9 - Aint Gon Let Up - Yola
10 - Respect My Fresh - Kinfolk Kia Shine
11 - Yea Develop - Lil' Wayne
12 - Top Down, Back Up - Young Capone (produced by Frank Nitti)
13 - Ms. New Booty remix - Bubba Sparxxx feat. Killer Mike and Big Boi
14 - Rock it All - Mr Bigg TIme feat. Nu Money
15 - B.G. Speaks
16 - Aint No Bitch - B.G. featl Webbie and VL Mike
17 - DJ Coolbreeze Speaks
18 - Im Straight - T.I., B.G and Young Jeezy
19 - Hustlin remix - Rick Ross feat. Busta Rhymes
20 - She Some Ripp - White Horse Cartel
21 - What Ya Know - Trina and T.I.
22 - Why U Lookin at Me - M.I.A.
23 - Turk Speaks
24 - Life Is a Gamble remix - Turk (produced by DJ Toomp)
25 - Tilt Ya Hat - G - Dinero feat. Pastor Troy
26 - Keep Yo Hands to Yourself - B.G.
27 - Chill - Mannish Man
28 - Good Googly Moogly - Project Pat
29 - Hold Up - UGK feat. Paul Wall
30 - T - Pain Checks In
31 - In Wit a Stripper remix - T-Pain, Twista, Pimp C, Paul Wall, MJG and Too Short
32 - Top Back - T.I.
Da Official Mixtape (Blends), vol. 1
1 - Peanut Butter and Jelly - Cadillac Don and J - Money
2 - Traphouse - Gucci Mane
3 - What Ya Know Bout That - T.I.
4 - Do it Wit No Hands (DJ Coolbreeze remix) - Suga Suga
5 - They Don't Like That - Dem Franchize Boyz
6 - Im Da Man - D4L
7 - Money on my Mind - Lil' Wayne
8 - Shoulder Lean (DJ Coolbreeze remix) - Young Dro feat. T.I.
9 - Lean Wit, Rock It - Dem Franchize Boyz
10 - Weight Man - Kantrell feat. Young Capone
11 - Shap Ya Fingers remix - BHI, K-rab feat. Lil' Jon
12 - Gettin Some Head - Shawwna
13 - Chevy Ridin - Dre feat. Rick Ross and Wes Fif
14 - Rubberbanks (DJ Coolbreeze remix) - Young Dro
15 - Like Me (DJ Coolbreeze remix) - D4L
16 - Its Goin Down (DJ Coolbreeze remix) - Yung Joc
17 - Slow It Up (DJ Coolbreeze remix) - DJ Unk
18 - Kryptonite (DJ Coolbreeze remix) - Purple Ribbon Allstars
19 - Do It, Do It (DJ Coolbreeze remix) - Baby D
20 - Get Like Me - P Stones
21 - Yeah - Big Kuntry
22 - Ridin, Swervin - Blackjak feat. Project Pat
23 - Rock Your Hips - Crime Mob
24 - Dont Play With Me - Dem Franchize Boyz feat. Three Six Mafia
25 - Ms. New Booty - Bubba Sparxxx feat. Ying Yang Twins
26 - Camera Phone - Da Muzicians feat. Mr. Collipark
27 - Poppin My Collar - Three Six Mafia
28 - Go Head - Guccimane feat. Mac Brez
29 - Mirror, Mirror - Kato
How To DOWNLOAD