Kochece, DJ Unexpected & Hevehitta - Jokaman: The Next Big Thing
Submitted by romeo on Thu, 09/28/2006 - 8:00pm.
Dirty South | Kochece | Mixtape Torrents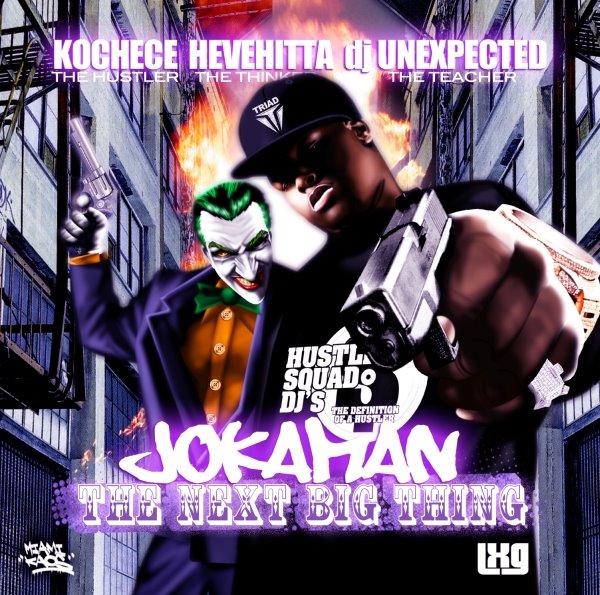 Jokaman gets his mixtape shine on with the help of Hustle Sqaud DJs:
Unexpected, Kochece & Hevehitta on this latest street narcotic. With
his album Live and Learn coming up shortly, this Houston, Texas vet is
on his mixtape grizzly, putting the promotional machine in effect for the
2006. This official Jokaman mixtape features tracks/freestyles + a few
cameos from Killa Kylon, Kiotti, Mike Jones, Magno, Beat King & Belly.
01. Call Me Joka(Intro)
02. The Next Big Thing
03. I Want Everything
04. In The Fast Lane
05. Jokaman Interlude #1
06. It Goes Down
07. H-Town Makeover
08. Ridin' Thru H-Town
09. DJ RPM Freestyle
10. In The South
11. Houston Confidential
12. Jokaman Interlude #2
13. Spit Yo Game Freestyle
14. Feel Good
15. Destined For Greatness
16. Beat King - You Like That
17. Serious
18. Just Due
19. Know The Name
20. Tha Biz
21. Hypnotize 2006
22. A Moment Of Silence
23. Gone But Never Forgotten
24. Jokaman Outro
How To DOWNLOAD