DJ L-Gee & DJ Grip - Put This On My Hood (NY To TX)
Submitted by romeo on Thu, 09/28/2006 - 9:46pm.
General | DJ L-Gee | Mixtape Torrents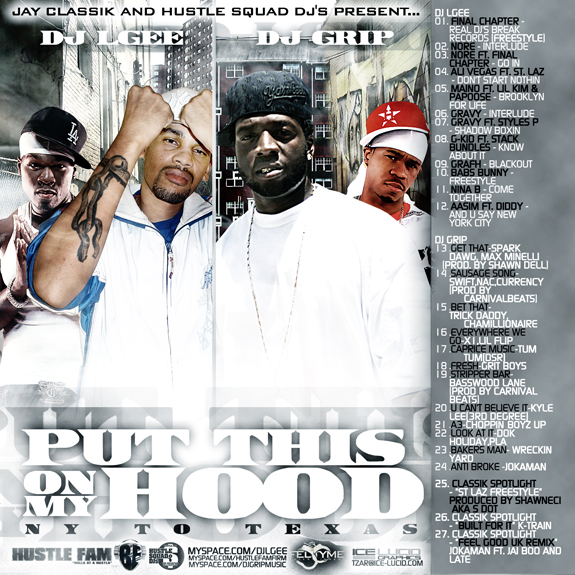 This is an original concept I'm feeling this idea, It's half NY artists
and half Texas artists, DJ LGEE is putting it down for the East Coast
and DJ GRIP is putting it down for the Dirty Dirty. On this cd expect
to here the likes of NORE, ALI VEGAS, ST LAZ, GRAVY, GRAPH and
PAPOOSE reppin the big apple and SPARK DAWG, CHAMILLIONAIRE,
LIL FLIP, GRIT BOYS, WRECKIN YARD and DOK HOLIDAY putting it
down for the South. Also check the last which is by JOKAMAN it's a
remix of his classic joint "Feel Good" which features the UK's finest
LATE & JAI BOO from Wolftown. Its pure fire & well recommended.
01. Final Chapter - Real DJs Break Records (Freestyle)
02. Nore - Interlude
03. Nore Ft. Final Chapter - Go In
04. Ali Vegas Ft. St. Laz - Don't Start Nothin
05. Maino Ft. Lil Kim & Papoose - Brooklyn For Life
06. Gravy - Interlude
07. Gravy Ft. Styles P - Shadow Boxin
08. G-Kid Ft. Stack Bundles - Know About It
09. Grafh - Blackout
10. Babs Bunny - Freestyle
11. Nina B - Come Together
12. Aasim Ft. Diddy - And U Say New York City
13. $park Dawg & Max Minelli - Get That
14. Swift, Nac, Curreny - Sausage Song
15. Trick Daddy, Chamillionaire - Bet That
16. X1, Lil Flip - Everywhere We Go
17. Tum Tum (DSR) - Caprice Music
18. Grit Boys - Fresh
19. Basswod Lane - Stripper Bar
20. Kyle Lee (3rd Degree) - U Can't Believe it
21. Choppin Boyz Up - A3
22. Dok Holiday, PLA - Look at it
23. Wreckin Yard - Bakers Man
24. Jokaman - Anti Broke
25. Classik Spotlight - St. Laz - Freestyle (Prod. By Shawneci AKA S Dot)
26. Classik Spotlight - K-Train - Built For It
27. Classik Spotlight - Jokaman Ft. Jai Boo and Late - Feel Good UK Remix
How To DOWNLOAD