DJ Smallz and Chamillioniare - Man On Fire
Submitted by mfizzel on Tue, 11/22/2005 - 7:51pm.
Mixtape Directory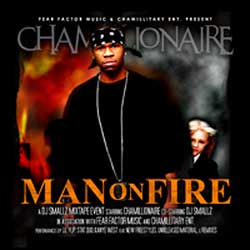 DJ Smallz takes a trip to Texas to help Chamillionaire set a blaze to
this exclusive mixtape hosted by Koopa himself, as he lets The People's
Champ premiere his Scott Storch-produced hit "Turn It Up" feat. Lil' Flip.
This mixtape features new heat, exclusive freestyles & major cameos by
Rasaq, Lil' Flip, Cool & Dre, Jazzy & Jeezy, Bun B, Lil' Wayne, Scarface.
1 - Denzel Washington Intro
2 - The Kings Are Here feat. DJ Smallz
3 - Realest Niggas In It feat. Rasaq
4 - Chamillionaire's Motivation
5 - Waiting 4 My Downfall
6 - The Truth Is Back!!!
7 - Undisputed King Koopa
8 - H-Town To A-Town feat. Lil' Scrappy
9 - Something Like A Pimp
10 - Turn It Up feat. Lil' Flip
11 - My Niggas feat. Cool & Dre
12 - Millionaires feat. Young Jeezy & Jazze Pha
13 - Haters Listen Up!
14 - I'm A Hustla feat. Lil' Wayne
15 - Deep Off feat. Bun B & The MddlFngz
16 - Neck Of My Woods
17 - Chamillitary Street Check
18 - In These Streets feat. B.G. & Soulja Slim
19 - Hold Up feat. Bun B, Stat Quo & Chyna Whyte
20 - Talking That Talk feat. David Banner
21 - Hate It Or Love It Houston
22 - Rollin' feat. Scarface & Bun B
23 - From The South feat. Z-Ro & Lil' Flip
24 - Let's Get it feat. Rasaq
25 - I Got This Outro
How To DOWNLOAD