DJ Envy - Joe Buddens I'm Back
Submitted by mfizzel on Sun, 01/29/2006 - 7:46pm.
Mixtape Directory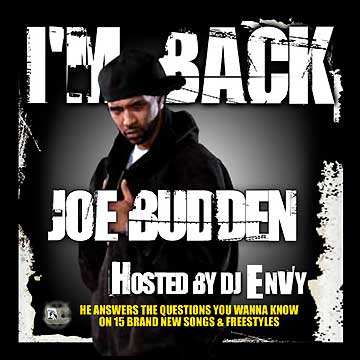 DJ Envy shows some Desert Storm love with Joe Budden as New
Jersey's rap pride & joy kills this exclusive mixtape, packed with 15
brand-new joints & freestyles. With Joe set to drop his sophomore LP
some time this year, this mixtape is the official preview to Budden '05.

1 - Intro
2 - I'm Back
3 - Sound Bwoy Bureill
4 - David Banner Interlude
5 - It's Whatever
6 - Nobody feat. Stack Bundles
7 - Interlude
8 - Mic Check 1, 2
9 - We Got This Locked feat. Stack Bundles
10 - Memphis Bleek Interlude
11 - So Seductive
12 - Broken Language feat. Stack Bundles
13 - I Shine
14 - Interlude
15 - I Run New Jerz
16 - Make Her Feel Good (remix) feat. Teairra Mari
17 - Holla Back (remix) feat. Gwen Stefani
18 - Gangsta Party feat. Nate Dogg
19 - So Long Goodbye
20 - Velvet Rope feat. Janet Jackson
21 - Nothing To Me
22 - 12 O'Clock feat. Marques Houston
How To DOWNLOAD