DJ Smallz & Sqad Up - Eyes Above The Water
Submitted by mfizzel on Tue, 12/06/2005 - 3:04pm.
Mixtape Directory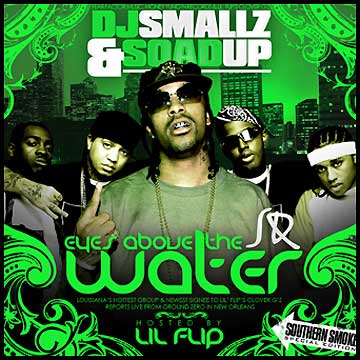 DJ Smallz mixes + co-signs this Southern Smoke Special Ed. & he gets
H-Town's Lil' Flip to host. They present this joint that features the newest
members of the Clover Gz Record Label Squad Up. The group from New
Orleans shows off their new material and delivers some new & exclusive
tracks with some dope cameos from Soulja Slim and The Freestyle King.
1 - Lil' Flip's Public Serivce Announcment
2 - DJ Smallz & Sqad Up – Intro
3 - Draped Up [Thank You H-Town]
4 - Gotta Get It
5 - Meet Supa Blanco
6 - Work Out
7 - No Laughin' Matter
8 - Meet Gudda, Gudda
9 - Gunz Up
10 - Im'ma Fool
11 - Gangster's Don't Live That Long feat. Soulja Slim
12 - Meet T. Streets
13 - Gudda's Summer
14 - Ain't My Style feat. Lil Flip
15 - Meet Nutt
16 - Club Banger
17 - S.Q.A.D. U.P.
18 - Gotta Like Me
19 - Meet Young Yo
20 - Nutt's Da Baddest Rapper
21 - On My Level
22 - The Baddest Bitch
23 - Feel My Pain
24 - I See U
25 - Own Time
26 - Say Goodbye
27 - DJ Smallz & Sqad Up – Outro
28 - Lil' Flip – It's A Wrap
How To DOWNLOAD