DJ Scream & Sqad Up: We Do This
Submitted by mfizzel on Wed, 05/31/2006 - 12:15pm.
Dirty South | DJ Scream | Mixtape Torrents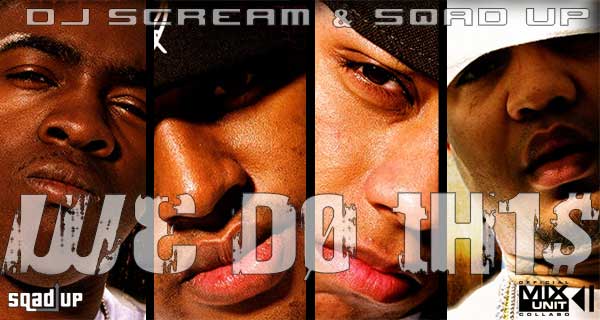 Seven years ago, things were looking up on the New Orleans hip-hop scene. With the birth and growth of Southern bounce music catapulting No Limit and it's roster of independent artists to national superstardom, the way was paved for Cash Money Records and its dominance of the Nolia.
Enter Sqad Up. Representing the recently devastated the 9th Ward, Sqad Up united with Lil' Wayne and began to feel at home in Cash Money's empire. Flooding the New Orleans streets with their SQ mixtape series (recently re-released to the mixtape underworld), the Sqad soon got their weight up and began touring with Weezy and the Cash Money fam. With Cash Money courting the group, Sqad Up toyed with the idea of signing to the super-label, but eventually split to do their own thing. That thing was Money Yung'N Records.
After a series of shake-ups and changes, Sqad Up now consists of four members: Supa Blanco, Gudda Gudda, Nutt Da Kidd and Yung Yo. With their affiliation with the Cash Money Millionaires no longer in tact, the Sqad got back on their independent grind, releasing mixtapes, and eventually, their 2004 debut album Now or Never.
Fast-forward to the present. Two years later, the Sqad is ready to drop another album — this one called We Here Now. In launching the promotional campaign for their upcoming sophomore thumper, the Sqad has begun yet another mixtape crusade, re-releasing their SQ mixtapes of years ago and preparing an all-new round of mixtapes.
With the first of a handful of mixtapes slated for release in anticipation of their follow-up album, MixUnit is proud to team up with Sqad Up and DJ Scream to bring you this Official MixUnit Collabo. Featuring a gang of new freeestyles, tracks and album teasers, this mixtape begins the effort to bring the Sqad full circle. With the whole nation now watching, the Sqad, Scream and MixUnit show you how We Do This.
"We were the 1st people to start doin' mixtapes in the N.O. People looked at those mixtapes like they were albums and the buzz got out of hand."

— Nutt Da Kid, Sqad Up
1 - Intro
2 - Parking Lot feat. Mannie Fresh
3 - Gangsters feat. Soulja Slim
4 - We From The Murda Capy
5 - Talk Dat Shit
6 - What U Workin' Wit
7 - Gun Check
8 - Hustlin' Freestyle
9 - Chasin' Paper (Album Exclusive/Sneek Peak)
10 - Thuggin' (Album Exclusive/Sneek Peak)
11 - Katrina
12 - Drunk & High
13 - Ridin' Clean
14 - Squadhouse
15 - Workout
16 - We Pop, We Roll
17 - I Do This For T.V.
18 - We Gets Busy
19 - Smoke On
How To DOWNLOAD