SQ1: Lil Wayne & The Sqad
Submitted by mfizzel on Thu, 05/11/2006 - 7:07am.
Mixtape Directory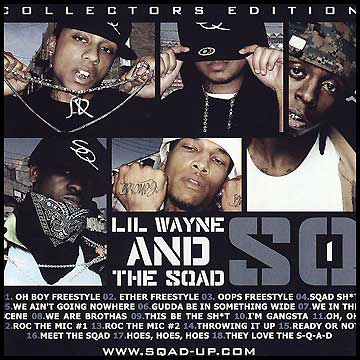 There was a young rapper dreaming about being the President of a multi-
million dollar record label and one of the illest emcees to come from the
place they call Da Nolia. That young rapper was Lil' Wayne and that was
back in 1999 when Weezy was part of a rap group Sqad Up compiled of
Gudda Gudda, Young Yo, Nutt Da Kidd, T Streets & Supa Blanco. With
these guys no longer a group, this CD brings you earlier Weezy F. sh*t.

1 - Lil' Wayne - 'Oh Boy' Freestyle
2 - Lil' Wayne - 'Ether' Freestyle
3 - Lil' Wayne - 'Oops' Freestyle
4 - Lil' Wayne & Sqad Up - Sqad Shit
5 - Lil' Wayne & Sqad Up - We Ain't Going No Where
6 - Sqad Up - Gudda Be In Something Wide
7 - Lil' Wayne & Sqad Up - We In The Scene
8 - Lil' Wayne & Sqad Up - We Are Brothas
9 - Lil' Wayne & Sqad Up - This Be The Shit
10 - Lil' Wayne & Sqad Up - I'm Gangsta
11 - Lil' Wayne - 'Oh, Oh' Freestyle
12 - Lil' Wayne & Sqad Up - Roc The Mic #1
13 - Lil' Wayne & Sqad Up - Roc The Mic #2
14 - Lil' Wayne & Sqad Up - Throwing It Up
15 - Lil' Wayne & Sqad Up - Ready Or Not
16 - Lil' Wayne & Sqad Up - 'Meet The Sqad' Freestyle
17 - Lil' Wayne & Sqad Up - Hoes, Hoes, Hoes
18 - Lil' Wayne & Sqad Up - They Love The S-Q-A-D
How To DOWNLOAD