DJ Chuck T - Down South Slangin Vol. 29
Submitted by mfizzel on Thu, 09/14/2006 - 7:43pm.
Dirty South | DJ Chuck T | Mixtape Torrents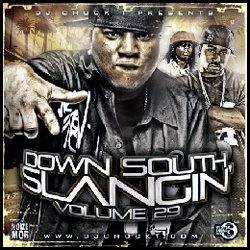 The South's been kind of shy on the mixtapes
lately and you know what that means... If you
know one thing about DJ Chuck T, you know
that when everybody else is counting sheep,
he's trying to be counting money.
So back with another delivery of one of the
South's most potent compilations, the Down
South Slangin' series. This mixtape brings you a
cool 30 tracks from all over the South.
This mixtape features new Southern music from
Young Dro, Boyz N Da Hood, Jeezy & Blood Raw
(CTE), Swishahouse, Trick Daddy, Trina, Killer
Mike, B.G. & Chopper City, Lil' Wayne, I-20,
Sqad Up, Spark Dawg, Stat Quo and more.

1 - Stuntin' Like My Homie - Young Jeezy & Blood Raw
2 - Bonafied Hustla - Lil' Wayne feat. Juelz Santana
3 - Naw - Young Dro
4 - Gee'd Up - Boyz N Da Hood
5 - Bet That -Trick Daddy
6 - If You Want Some - Young Buck feat. Jazze Pha
7 - Rubber Burnin' - Lil' Wayne feat. Juelz Santana & T.I.
8 - Gotta Get It - Lac & Stone feat. Juvenile
9 - Groovy - Kiotti
10 - What About 'Em - Swisha House feat. E-Class & Tum Tum
11 - Colors - Maxminelli
12 - Shoot 'Em Up - Killer Mike feat. Grind Time
13 - More Heat - Currensy feat. Lil' Wayne, Juelz Santana & Bezel
14 - Fuck Me, Fuck You - S.E.G.A Boyz
15 - My Gun - Sqad Up
16 - What's Beef - Trina (Dissin' Khia, B.G. & Gillie Da Kid)
17 - Hit Her Up - Khia (Responding To Trina's Diss Record)
18 - Make 'Em Mad - Chopper City Boyz feat. B.G.
19 - Like This (remix) - Khujo Goodie feat. Youngbloodz & Trae
20 - Make It Rain - I-20
21 - Smooth - Jokaman feat. Troy Ave. & Big Nik Of The Wreckin' Yard
22 - Ride Tonight - Blood Raw & Slick Pulla
23 - Let It Rain' - Stat Quo
24 - Live Good - Spark Dawg
25 - Stunna Frames - Kinfolk Shine
26 - Cry - Magno
27 - Tha Truth (remix) - Trae feat. 2pac
28 - Pray For Me - Young Buck
29 - 3, 2, 1, Go - Lil' Flip feat. Three Six Mafia
30 - Dont Make Me Hurt You - Young Buck feat. Tony Yayo
How To DOWNLOAD