Remy Martin - Most Anticipated: Queen of NY
Submitted by mfizzel on Thu, 11/24/2005 - 10:52am.
Mixtape Directory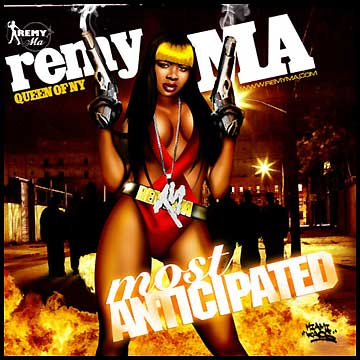 Remy Martin of the Terror Squad is puttin' in her claim to the throne,
calling herself the Queen of NY and showing you why. Putting up more
than 10 exclusive freestyles + all-new tracks, cameos and unreleased
joints, this Most Anticipated mixtape does not disappoint. With Remy
droppin' her first official mix in a minute, it's been a long time coming.
1 - Intro
2 - Most Anticipated Freestyle
3 - Get 'Em Daddy Freestyle
4 - I'm
5 - Catch The Beat Freestyle
6 - Rapid Fire
7 - Conceited
8 - Freestyle
9 - Kryptonite Freestyle
10 - Me
11 - Please Freestyle
12 - Some Other Place (Gonna Be Alright) feat. Keyshia Cole
13 - How We Do Freestyle
14 - Freestyle
15 - Let's Get It On (Fight Klub)
16 - Whuteva
17 - Where My Bitches At
18 - Freestyle
19 - Arsenal Freestyle
20 - No Bet Chill
21 - Diamonds Are Forever Freestyle
How To DOWNLOAD