Big Mike, DJ Premier & Teflon: Bad News
Submitted by mfizzel on Sat, 01/07/2006 - 5:16pm.
Mixtape Directory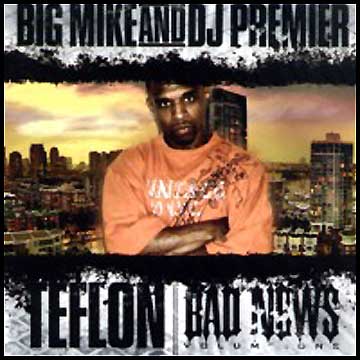 Big Mike and hip-hop legend DJ Premier team up to bring you Primo's
own artist Teflon and his official mixtape debut. Packing some of that
NY underground heat, Tef drops this mixtape before his anticipated LP
Contraband and the streets are watching. Featuring new production by
DJ Premier + remixes including M.O.P., Busta Rhymes, Remy Martin.

1 - Teflon - Welcome Back
2 - Teflon - Showtime
3 - Teflon - Tef's Def Jam
4 - Teflon - What Gansters Do
5 - Teflon - For The Love
6 - Teflon feat. M.O.P. - Instigator
7 - Teflon feat. M.O.P. & Jay Z - Alarm Blaze
8 - Teflon - Rugged Terrain
9 - Teflon - Certified Gorilla
10 - Teflon - Cold World
11 - Teflon - PSA Freestyle
12 - Teflon, M.O.P., Busta Rhymes & Remy Ma - Ante Up (remix)
13 - Teflon - The Boss Freestyle
14 - Teflon - Let The Shells Burn
15 - Teflon - High As F@ck
16 - Teflon - Teflon Is Back Freestyle
17 - Teflon - The Fix Freestyle
18 - Teflon - Guess What Freestyle
19 - Teflon - The Squeeze Freestyle
20 - Teflon - U Must Be Crazy
21 - Teflon - Bad Hand
22 - Teflon - Outro
How To DOWNLOAD