J-Love - King Of What I Do #14 (Hosted By Raekwon)
Submitted by mfizzel on Mon, 02/06/2006 - 10:22am.
Mixtape Directory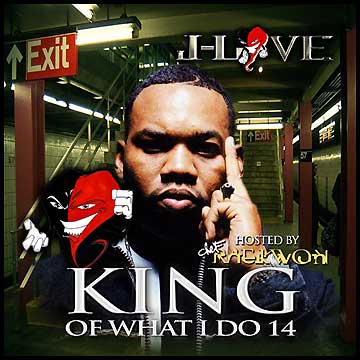 J-Love is unmatched when it comes to dropping those raw, gutter hip-hop
mixtapes. So with Raekwon on the co-sign, and the artists other DJs are
afraid to put on their CDs on his mixtape, J-Love drops another round of
straight underground heat from M.O.P., Cormega, Nas, Tru Life, Sadat X,
O.D.B., Raekwon & Ghostface, Styles P & Teflon, G-Unit, Beanie Sigel...

1 - Intro
2 - Raekwon - Heavyweights [produced by J-Love]
3 - Raekwon, Ghostface Killah, Notorious B.I.G. - 3 Bricks
4 - Raekwon - State Of Grace
5 - M.O.P. - My Way [produced by J-Love]
6 - Cormega - Dirty Game
7 - Killa Sha - Clash Of The Titans
8 - Trife - War Scarz
9 - Raekwon - The Enemy
10 - Raekwon - Who Would Have Thought
11 - Ghostface Killah - Like That
12 - 50 Cent - Pimpin' part 2
13 - Young Buck & Lloyd Banks - Because I'm Black
14 - Nas - Take Away Ya Name
15 - Scarface, Beanie Sigel, The Game - I'll Never Snitch
16 - Tru Life - Breath In My Lungs
17 - La The Darkman - 1000 Grams
18 - Cam'ron & Juelz Santana - It's Nothin
19 - O.C. - This Is Me
20 - N.Y.C. Krooks - Harsh Realities
21 - Sadat X - Have A Good Life
22 - Raekwon - Kids Thats Rich
23 - Styles P &Teflon - Married 2 The Game
24 - M.C. Lyte - Wonder Yearz
25 - Mobb Deep & 50 Cent - The Infamous
26 - Cormega & M.O.P. - 718
27 - Ol' Dirty Bastard - Skrilla
How To DOWNLOAD