DJ Smallz - Curren$y & Mack Maine: G-Series Vol. 1
Submitted by mfizzel on Tue, 05/16/2006 - 10:17am.
Mixtape Directory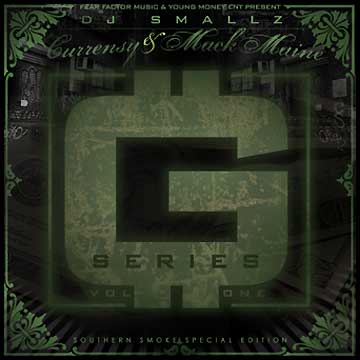 DJ Smallz drops the first volume in the G-Series which has 18 exclusive
tracks from Young Money's beast on the mic Mack Maine (Maine For
President) and Curren$y aka. Hot Spitta. Get behind the Young Money
Movement with this Special Edition Southern Smoke which also features
some guest appearances from the Birdman, Remy Ma and Lil' Wayne.

1 - DJ Smallz & Mack Maine – G-Series Intro
2 - Curren$y & Mack Maine – I'm A G
3 - Curren$y – Fly Spitta
4 - Mack Maine – Southern Smoke
5 - Mack Maine – I Freestyle For Real
6 - Curren$y & Mack Maine – Side To Side
7 - Curren$y, Mack Maine & Lil' Wayne – Ridin' With That K
8 - Curren$y, Mack Maine & Lil' Wayne – Poppin' Them Bottles
9 - Curren$y & Mack Maine – Ball Bats
10 - Mack Maine – Get To Know Smallz
11 - Curren$y feat. Lil' Wayne & Remy Martin – Where Da Cash At
12 - Curren$y & Mack Maine & CT – Jazzy Bitch
13 - Curren$y & Mack Maine, Lil' Wayne & Birdman – Shovelin' Snow
14 - Mack Maine – Pay Attention!
15 - Curren$y & Mack Maine – Dro
16 - Mack Maine - Hollygrove Roll Call
17 - Curren$y & Mack Maine – I Don't Need You
18 - Mack Maine – Worst Part Of The Mixtape
BONUS TRACK
19 - Lil' Wayne – Hustler Musik
How To DOWNLOAD