Mack Maine - The Laxative (Hosted by DJ Ill Will & DJ Rockstar)
Submitted by RSS on Mon, 10/25/2010 - 8:36pm.
Dirty South | DJ Ill Will | Mixtape Torrents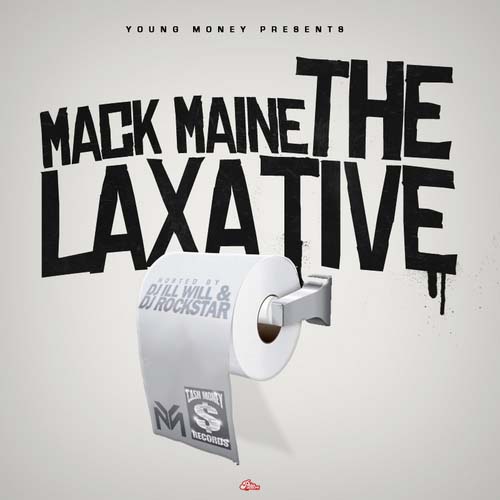 The Young Money President teams up with DJ ill Will & DJ Rockstar to drop his new Official Mixtape "The Laxative" including new and some older unreleased music. Features include Lil Wayne, Jae Millz, T-Pain, Kid Cudi, Snoop Dogg, Lloyd, Gorilla Zoe & MORE!!!
1. (00:03:13) Mack Maine - Young Money, Cash Money
2. (00:04:19) Mack Maine - Ghetto Commandments feat T-Pain & Snoop Dogg
3. (00:03:22) Mack Maine - We Do This (Top of the Dome Freestyle)
4. (00:03:13) Mack Maine - Young Mulah Baby feat Gorilla Zoe (Prod by KE)
5. (00:04:11) Mack Maine - Up Jumps Da Boogie
6. (00:03:31) Mack Maine - Viktory feat Jae Millz & Lil Wayne
7. (00:05:00) Mack Maine - Nathin
8. (00:04:25) Mack Maine - Coach
9. (00:03:34) Mack Maine - What You Want feat Lloyd
10. (00:05:22) Mack Maine - My Reality feat Lil Wayne (Prod by Timbaland)
11. (00:01:41) Mack Maine - Funny Style feat Kid Cudi
12. (00:04:16) Mack Maine - Bitch I'm From New Orleans feat Lucci Lou
13. (00:04:07) Mack Maine - Groundhog Day feat Mayday, Ghostwridah & Cee-Lo
14. (00:04:24) Mack Maine - Moonshine
15. (00:03:49) Mack Maine - I'm In Love
16. (00:03:54) Mack Maine - Pom Pom's
17. (00:05:32) Mack Maine - Smash Session feat Boo
18. (00:03:33) Lil Wayne - 30 Minutes to New Orleans [Bonus]
How To DOWNLOAD