DJ Kay Slay - NYC Drama Volume 3
Submitted by mfizzel on Sun, 11/27/2005 - 4:55pm.
Mixtape Directory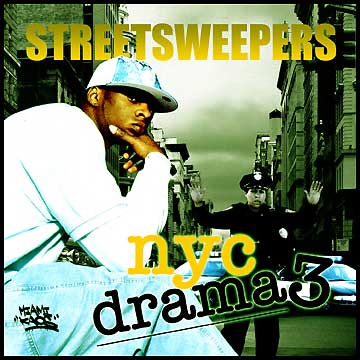 DJ Kay Slay stays hittin' the streets with what's he's known for, the
drama (he's the King!). He brings NYC Drama including Memph Bleek's
response to The Game's disses, new freestyles from Papoose + Doo
Wop, and all-new hip-hop from Black Rob, Ghostface, Tony Yayo &
Obie, The Game, Cam'ron & J.R., Buck & Stat Quo, Twista, Lil' Kim...

1 - Intro
2 - Papoose Freestyle
3 - Doo Wop Freestyle
4 - Memphis Bleek Freestyle (Dissin' The Game)
5 - Black Rob feat. Akon - Watch Your Movements
6 - Ghostface feat. Trife - Cocaine Trafficing
7 - Papoose feat. Ghostface - In The Bushes
8 - The Game - Around The Way
9 - Cam'ron feat. J.R. Writer - Bird Call
10 - Tony Yayo feat. Obie Trice - Drama Setter
11 - Jim Jones feat. Max-B - What You Gonna Do
12 - Cam'ron feat. Jaheim - Something New
13 - DJ Kay Slay feat. The Ranjahz & Papoose - Wut's On Your Mind
14 - Black Rob - A Star In The Hood
15 - Cashmere feat. Green Lantern - They Not Like Me
16 - Young Buck feat. Stat Quo - South Coast
17 - Twista feat. David Banner & Young Bloodz - Diamonds In My Watch
18 - Lil' Kim - Shut Up Bitch
19 - Black Rob - I'm Ready
20 - Juelz Santana - No Days Off
21 - The League - 6 Gun
22 - Sheist Millini - Match Box
23 - Boo Blades - Freestyle
How To DOWNLOAD