DJ Khaled - Lil Wayne & Birdman: The Carter #2 Mixtape (Like Father, Like Son)
Submitted by mfizzel on Fri, 02/24/2006 - 10:35am.
Dirty South | DJ Khaled | Mixtape Torrents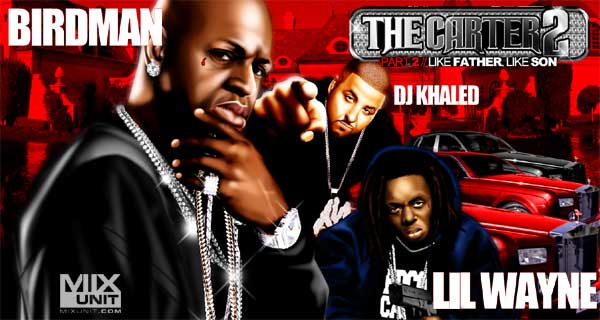 Lil' Wayne isn't your average 23-year-old. President of one of the most prestigious record labels in Dirty South hip-hop history, Weezy F. Baby is the only Cash Money Records rapper remaining from the late-90's multi-platinum group The Hot Boys. Rewarded hansomely for his loyalty, Wayne aka. The Birdman Junior has become the protege and bread-and-butter of Cash Money's owner Brian "Baby" Williams aka. The Birdman. Reppin' Cash Money and New Orleans to the fullest, these two Southern legends bless Terror Squad/Beat Novacaine's DJ Khaled with this sequel to the best-selling mixtape of 2005, The Suffix. Featuring all-new tracks, exclusives & freestyles from the Cash Money millionaires, this major motion mixtape includes unreleased joints not found on Weezy's '05 albums Tha Carter + Tha Carter II. Liiiisstttennnnn...to Cash Money history in the making alongside Remy Martin, Scarface, Curren$y (Wayne's first artist on his new record label) and others...
1. Intro
2. Long Time Comin'
3. So Fly feat. Chop
4. Ain't Worried 'Bout Shit
5. Don't Give A Fuck
6. I'm Hot
7. Whrr Tha Cash feat. Curren$y & Remy Martin
8. Mob
9. Lil' Nigga feat. Scarface
10. Feelin' Myself feat. Nikki
11. My Girl
12. Neighborhood Superstar
13. Strap
14. Problem Solver
15. Gangstas Don't Die
16. 4 Tha Hustlers
BONUS TRACKS
17. DJ Khaled feat. Lil' Wayne, Paul Wall, Pitbull, Rick Ross & Fat Joe - Holla At Me Baby [the first single off the upcoming DJ Khaled album - COMING SOON!]
18. All-Star
How To DOWNLOAD