DJ Envy & Tapemasters Inc. - Purple Codeine 6 (Hosted By Rick Ross)
Submitted by mfizzel on Thu, 05/25/2006 - 1:05am.
Dirty South | Tapemasters Inc | Mixtape Torrents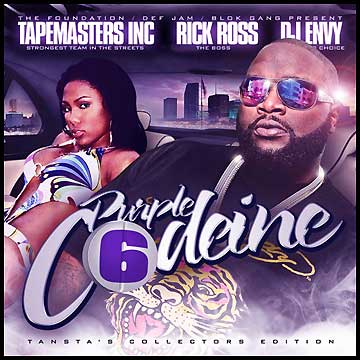 DJ Envy and Tapemasters Inc. take the Purple Codeine mixtape series
on a ride through the Miami-Dade with Rick Ross. This mixtape features
Rick's "Hustlin" remix + new tracks and freestyles from the 305 Hustler,
as well as new Southern tracks & exclusives from Lil' Wayne & Three-6,
Lil' Flip & MJG, Chamillionaire, Project Pat & Kanye, Shawnna, T.I., Yung
Joc, Kiotti, Outkast, Pitbull/Trick Daddy, Ray Cash, Bun B./Little Brother.

1 - Tapemasters Inc, DJ Envy & Rick Ross - Miami Hustla Intro
2 - Rick Ross & AC - Get Throwed
3 - Rick Ross feat. Jay-Z & Young Jeezy - Hustlin (remix)
4 - Lil' Wayne & Three-6-Mafia - Hustlin Freestyle
5 - Chamillionaire feat. Twista, 8Ball & MJG - Ridin Dirty (remix)
6 - Bun B, Young Jeezy & USDA - Gangsta Shit (DJ Khaled album)
7 - Lil' Flip feat. MJG - Can't U Tell
8 - Rick Ross - Poppin My Collar Freestyle
9 - Rick Ross feat. Twista & Majic Massey - Bonefide Hustler (produced by Cool & Dre)
10 - Lil' Wayne, Freeway, Willie Da Kid, Detroit Red & Juice - Cannon (remix)
11 - Three-6-Mafia feat. Kanye West & Project Pat - Side 2 Side (remix)
12 - Ray Cash feat. T.I., Pimp C, Project Pat & Young Dro - Bumpin My Music (remix)
13 - Rick Ross Handles Bidness
14 - Trick Daddy, Rick Ross & Pitbull - Born N Raised (DJ Khaled album)
15 - T.I. - Message To The Government [unreleased]
16 - Yung Joc - Fuck U Pay Me
17 - Shawnna - Damn
18 - Paul Wall & Gritboys - Bang
19 - Rick Ross - I'm Bad
20 - Chingy feat. Fatman Scoop - Let Us Ride (produced by Kwame)
21 - Pharrell feat. Kanye West - Number 1
22 - Outkast - Mighty O
23 - Bun B feat. Little Brother - Candy
24 - Kiotti - Chop Chop
25 - Sugar Tongue Slim & Cornbread - Thug It Out
26 - Question - Midget In The Trunk
27 - Broadway - Fans
28 - Rick Ross - Wrap Up Outro
How To DOWNLOAD