DJ 31 Degreez - South Star Generals 5.5
Submitted by mfizzel on Mon, 06/19/2006 - 12:41pm.
Dirty South | DJ 31 Degreez | Mixtape Torrents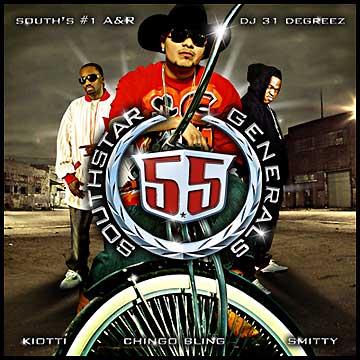 DJ 31 Degreez is back with 3 of the South's most known unknowns,
aka. 3 artists who've killed the independent but waited on the majors,
special hosts Chingo Bling, Smitty and Kiotti. With all-new music
from the Dirty South, this mixtape features the Power Cypher (#6!!),
Trae & Yung Joc, Young Jeezy, Chamillionaire, Stat Quo, Young Dro,
Rick Ross, Three-6, Slim Thug, Chingo Bling, Lil' Wayne & Tum Tum.

1 - MTV News Intro
2 - Chingo Bling - Hustler Manula
3 - Chingo Bling - Chingo Bling City
4 - DJ 31 Degreez feat. Kiotti, Young Ink All Stars, Mc Qua - Make It Work
5 - Smitty - I Represent
6 - Big Boi, Ying Yang Twins, Dem Franchise Boyz, Bubba Sparxxx, Yung Joc, D4L, Trillville, Crime Mob, Lil' Scrappy - Power Cypha Pt. 2
7 - Yung Joc, Cam'ron, Rick Ross, Slim Thug, Jody Breeze, Nitty - It's Going Down (remix)
8 - Rick Ross, Triple C's, The Runners - Whip It (In The Kitchen)
9 - Trae & Yung Joc - In The Hood
10 - Roam Bad Daddy - Do Ya Thang
11 - Tum Tum - Crawling Up Deuces
12 - Young Jeezy, CTE, 211 - Lil' Buddy (remix)
13 - Stat Quo - Million Bucks
14 - T.I. & Macboney - See The World [not on album]
15 - Young Dro - One Day
16 - Chamillionaire - Platinum Interlude
17 - Slim Thug, Chamillionaire, Trina, Cool & Dre w/ DJ Khaled - Candy Paint Dripping
18 - Chingo Bling - White Chicks
19 - Lil' Scrappy - Hit The Block
20 - Lil' Wayne & Baby - Like Father Like Son
21 - Rick Ross, Young Jeezy, Jay-Z - Hustlin (remix)
22 - Slick Pulla - Touch It Or Not (Freestyle)
23 - Kiotti - Diamonds (Freestyle)
24 - Rick Ross - Miami Heat (Freestyle)
25 - Three 6 Mafia, Project Pat, Kayne West - Side 2 Side (remix)
26 - Nina Sky & Rick Ross - Flipping That
27 - Kelis & Slim Thug - Bossy (remix)
BONUS TRACK
28 - Jay - Z - Hova 60 Seconds Freestyle
How To DOWNLOAD