Mick Boogie - Lil Wayne: The W. Carter Collection #2
Submitted by mfizzel on Thu, 05/04/2006 - 5:06am.
Dirty South | Mick Boogie | Mixtape Torrents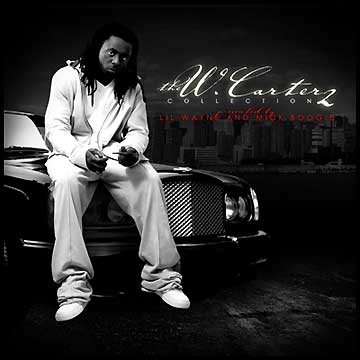 Mick Boogie and Lil' Wayne present the 2nd edition of the W. Carter
Collection mixtape representing for Reebok's newest hip-hop signature
shoe line. Assembling another collection of the hottest tracks by Weezy
F. Baby, Mick takes you more than 30 classics deep of New Orleans'
#1 freestyles, remixes/blends, LIVE joints, tracks, cameos and verses.

1 - Mick Boogie / MTV Intro
2 - Lil' Wayne - Intro
3 - Lil' Wayne - 16 Bars, part 1
4 - Lil' Wayne & Rakim - I'm A D-Boy, part 2 (Mick Boogie mix)
5 - Lil' Wayne - Feelin Myself
6 - Lil' Wayne, Busta Rhymes & Slim Thug - It Ain't Over
7 - Lil' Wayne & T.I. - What You Know
8 - Lil' Wayne - I Got It
9 - Lil' Wayne - Hustla Music (LIVE)
10 - Lil' Wayne - Bitches
11 - Lil' Wayne & Young Jeezy - Ya Dig, part 2 (Wally Sparks mix)
12 - Lil' Wayne, Shawnna, Rick Ross & Pimp C - Getting' Some Head (remix)
13 - Lil' Wayne & The W. Carter Collection (Interlude)
14 - Lil' Wayne - 16 Bars, part 2
15 - Lil' Wayne, Trina & Remy Ma - Conceited, part 2
16 - Lil' Wayne & Baby - Gotta Get It
17 - Lil' Wayne - Ready To Walk
18 - Lil' Wayne & Al Fatz - Came Down (Mick Boogie mix)
19 - Lil' Wayne - Juicy
20 - Lil' Wayne Introduces Yonny (Interlude)
21 - Lil' Wayne & Cam'ron - Suck It Or Not (Yonny remix)
22 - Lil' Wayne Introduces Currency (Interlude)
23 - Lil' Wayne & Currency - Where The Cash At?
24 - Lil' Wayne - 16 Bars, part 3
25 - Lil' Wayne - They Want Weezy
26 - Lil' Wayne - Fireman (LIVE)
27 - Lil' Wayne, Jody Breeze & Penelope - Miss Me
28 - Lil' Wayne & Jody Breeze - Lil' Daddy, part 2
29 - Lil' Wayne - Private Dancer
30 - Lil' Wayne Outro (Something For the Bitches)
31 - Lil' Wayne & Chris Brown - Gimme Dat
32 - Lil' Wayne, Three 6 Mafia & Christina Milan - Ride
33 - Lil' Wayne - Feelin' Me
How To DOWNLOAD