DJ Khaled - Rick Ross: M.I. Yayo
Submitted by mfizzel on Sat, 02/25/2006 - 9:25am.
Dirty South | DJ Khaled | Mixtape Torrents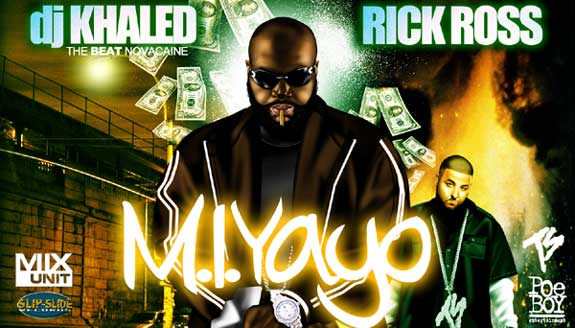 Listennnnn! Listennnn! DJ Khaled teams up with certified hustler Rick Ross to make a little mixtape noise and represent for the 305. DJ Khaled, a member of the Terror Squad/The Beat Novacaine is back with his second major collaboration (see: Lil' Wayne - Suffix) and this time he brings you a little piece of his hometown: Miami. With Rick Ross' single "Hustler's Anthem" getting MAJOR rotation nationwide, this M.I.A. tagteam brings the Hustler's movement full-circle. Miami's #1 celebrity DJ and #1 Hustler tap a nationwide audience with this all-exclusive mixtape packed with new freestyles, tracks and South Beach anthems. With the rumors swirling over where Ross will land his major label debut (it's been said Bad Boy, Atlantic, and Def Jam, among others, are in heated negotations to secure the upcoming rapper), this mixtape comes from his original label affiliation: Slip-N-Slide Records.

1 - Hustlers Anthem (DJ Khaled exclusive)
2 - DJ Khaled feat. Lil' Wayne, Paul Wall, Rick Ross, Fat Joe & Pitbull - Holla At Me Baby! [the first single off the upcoming DJ Khaled album - COMING SOON!]
3 - I'm Bad
4 - Soul Survivor (Freestyle)
5 - Feel Me
6 - Kick In the Door
7 - Down & Out
8 - Chevy Ridin' High feat. Dre (of Cool N Dre)
9 - Last Of A Dying Breed (Freestyle)
10 - Bottom Of The Map (Freestyle)
11 - Doing My Job
12 - Before Aa Limelight
13 - Dreams (Freestyle)
14 - Stay Fly (Freestyle)
15 - Shut Up (Freestyle)
16 - Bitches & Bizness
17 - Bitch Who You Fuckin' Wit ' feat. Triple C's
18 - Pots & Pans
19 - Thug Thizzle feat. Deuce Poppi & Brisco
20 - Rap Star feat. Dre
21 - Dear Lord feat. Triple C's
22 - Uncle Johnny
23 - Grippin Grain
How To DOWNLOAD