DJ Ideal & Rick Ross - Coming From Da Bottom
Submitted by method187 on Mon, 10/02/2006 - 3:01am.
Dirty South | DJ Ideal | Mixtape Torrents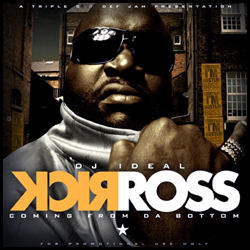 Port Of Miami and "Hustlin" tore through South
Beach like the tornado in 'Wizard of Oz.' A
newcomer in '06, Rick Ross quickly became
'The Boss' of the Southern scene, and it
showed in the mixtape world.
We dropped M.I. Yayo before anybody'd heard
of of the 305 superstar-in-the-making. From
there on out, there wasn't a Southern mixtape
that didn't have Ross all over it.
Back supporting his 1st mixtape since his Def
Jam debut, Ross joins his Miami neighbor DJ
Ideal for this major follow-up. With a new
round of Ross material (mainly joints left off
Port Of Miami + a few unreleased exclusives &
freestyles), this mixtape cuts 'em wide, cuts
'em long and cuts 'em fat. Rosssssssss!!!!

1 - Will Da Real One & Rick Ross - Intro
2 - Push It
3 - Im Da Man feat. Lil Wayne - Remix
4 - Rick Ross - Interlude
5 - Duck Down - Freestyle
6 - Rick Ross - Interlude
7 - Can't Trust A Soul feat. Triple C's
8 - Jack Move
9 - Whip It
10 - Cross That Line feat. Akon
11 - Whip Yo Head - Freestyle
12 - New York Shit - Freestyle
13 - What Do I Do feat. Triple C's
14 - Fuck The Opposition feat. Triple C's
15 - You Ain't Shit feat. Triple C's & Ashley Ross (produced by Cool N Dre)
16 - Million Dollar Nigga
17 - Hold On feat. Duice Poppi
18 - Die Pussy Nigga feat. Brisco
19 - When I Ride feat. Triple C's
20 - Im Here For You
21 - Rick Ross - Interlude
22 - Torn - Remix
23 - Paradise
24 - Ross Got A Story To Tell
25 - Rick Ross - Outro
How To DOWNLOAD