Mick Boogie - Rick Ross: Rick The Ruler #2
Submitted by mfizzel on Mon, 07/24/2006 - 8:10pm.
Dirty South | Mick Boogie | Mixtape Torrents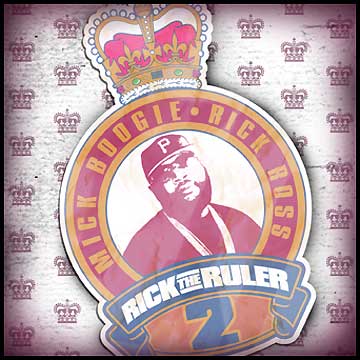 The Hustler turned King of Miami Rick Ross couldn't be in any greater demand
right now. The newly annointed rap royalty touches back down with Mick Boogie for
the follow-up to their heralded Rick The Ruler.
With Ross' upcoming album Port of Miami (shipping August 8 from The Mix Unit!)
stirring waves across the Dirty South, this Mick-molded mixtape follows the
formula of the first for a royal sequel.
Mixed in typical Mick fashion, this mixtape features Rick Ross commentary over
a combination of Port Authority teasers, recent tracks/freestyles and patented
"MB remixes."

1 - Mick Boogie Intro
2 - Rick Ross Intro
3 - Rick Ross - Port Of Miami
4 - Rick Ross - Blackball Me
5 - Rick Ross, Styles P, Akon, Fat Joe, & DJ Khaled - Watch Out
6 - Rick Ross, Dre, Game & The Clipse - Chevy Ridin' High (remix)
7 - Rick Ross feat. Jay-Z - I'm Bad (Mick Boogie remix)
8 - Rick Ross, Yung Joc & Slim Thug - It's Going Down (remix)
9 - Rick Ross & T.I. - Drivin' Slow
10 - Rick Ross Discusses Blow (Interlude)
11 - Rick Ross feat. Nas - Blow (Mick Boogie remix)
12 - Rick Ross & Fat Joe - Let's Go
13 - Rick Ross & Triple C - Ain't A Problem
14 - Rick Ross & Brisco - Die
15 - Rick Ross - The White House Freestyle
16 - Rick Ross - Pots & Pans
17 - Rick Ross feat. Shawnna - Gangsta Shit (produced by Clinton Sparks)
18 - Rick Ross, Lil Wayne, Yung Joc & D4L - I'm Da Man (remix)
19 - Rick Ross & Nina Sky - Flippin' That
20 - Rick Ross & Poppin' Bullets - Got My Money Up
21 - Rick Ross - Money On My Mind
22 - Rick Ross Discusses League Crew Radio (Interlude)
23 - Rick Ross - Flatline
24 - Rick Ross - Once Again It's On
25 - Rick Ross feat. The Delphonics - Here For You
26 - Rick Ross, Twista & Majic Massey - Bonafide Hustla
27 - Rick Ross Outro
28 - Rick Ross & Cassie - Me & U (Mick Boogie remix)
29 - Rick Ross & Nelly Furtado - Promiscuous Girl (remix)
How To DOWNLOAD