The Come Up Pt. 14 (The Notorious Kiss Edition)

Submitted by jaime on Mon, 05/21/2007 - 3:02pm.
Mixtape Torrents | Singles / Diss Tracks / Promo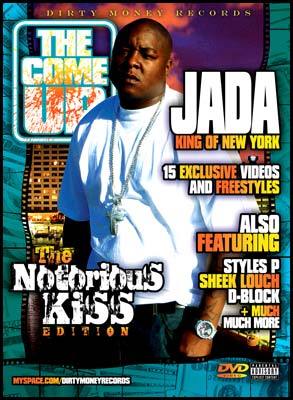 The Come Up's creator and producer, Fendi aka. the head of Dirty Money Records, currently home of Gravy and Nikki Manaj, the next female to make a killing in the rap game. Although he's been busy working on a deal with Lil' Wayne over at Young Money to sign Nikki Minaj (you'll find Nikki on Wayne's upcoming 'The Drought 3' mixtape), Fendi has been doing his own thing too.
With his last 'The Come Up' still ringing in the streets (and it's already 3 months old), Fendi is taking his latest project to an entirely new level. Sitting down with The Mix Unit for our usual phone-interview-before-the-drop, Fendi came to the table with none other than Jadakiss on the 3-way, and we knew it was something serious.
Jada spoke to us on a bunch of sh*t. He let us know how he originally hooked up with Fendi ("back in 90-something on the Bad Boy/No Way Out tour in North Carolina", what he's been up to (two albums, including a Lox joint), the status of the mixtape game and why he's been silent on the mixtape front since 'The Champ Is Here' with Green Lantern & Big Mike ("We the mixtape KINGS. But we decided to fall back because we wanted to -- because we could", why he can't live without his radio (to check the competition...by the way, he's feeling T-Pain's new joint but thinks Fab & NeYo's "Make Me Better" is the hottest track out), and when he's hoping to put out his next album (cross your fingers for September).
But most importantly, he spoke on why him and Fendi were working together again.
Together, Jadakiss and Fendi unfolded the concept for their new DVD, with Jada handling most of the talking (as Fendi says, "I let my artists talk for me" and Fendi ad-libbing like The Snowman. With this special edition 'The Come Up' DVD, Fendi and Jadakiss bring you nothing less than 15 exclusive videos and freestyles from 'The Champ' aka. Jada Muwah.
Calling this project 'The Notorious K.I.S.S.', Jadakiss shot more than 10 new videos you won't see on BET or MTV or any other place than this DVD, including several new and exclusive tracks you won't hear anywhere else than The Come Up #14. Although Jada is in the lab cooking up a Lox album, a personal album, and possibly a mixtape, he had time to break away and shoot music videos and freestyles all over New York city, proving the Hood is where is Home is.
Back toogether with Fendi and Dirty Money for the last time since his MixUnit.com Collabo with Gravy titled 'The Big Co-Sign,' Jadakiss is back in the streets where he loves to serve it up. And with Hip-Hop working on the whole HIP-HOP IS DEAD theme and trying to crucify wack rappers, there's nobody better than Jadakiss to answer the call. Possibly the street's best pound-for-pound lyricist in hip-hop, Jadakiss is back with this special DVD to let his fans know 2007 is about to be a big year for J.A.D.A.
This DVD is 140 minutes long and features an extra 45 minutes of exclusive D-Block footage from the entire crew.
How To DOWNLOAD