Mick Boogie & Lupe Fiasco - It Was Written
Submitted by method187 on Sun, 10/08/2006 - 5:20am.
East Coast | Mick Boogie | Mixtape Torrents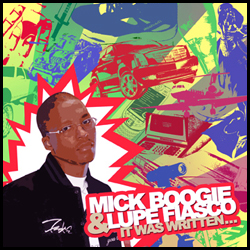 Everybody's favorite hip-hop skater (minus the
Ice Cream skate team) and hip-hop's fresh
face Lupe Fiasco teams up with The
Commissioner Mick Boogie as he puts his 1,2
1,2 on the "Kick Push" kid.
Originally gaining major mixtape attention with
his Mix Unit Collabo Touch The Sky, the West
Side Chicagoan recently dropped his leak-proof
hip-hop classic Food & Liquor to major hip-hop
press acclaim.
Already kicking and pushing his album, Lupe
Fiasco returns to the street with Mick to splash
the fans with another mixtape, this time full of
1st & 15th favorites, including rarities, remixes,
classics, freestyles and fire! Chi-Town stand
up!

1 - Mick Boogie - Intro
2 - Lupe Fiasco - Intro
3 - Lupe Fiasco - FNF Dynasty
4 - Lupe Fiasco & Jay-Z - Pressure
5 - Lupe Fiasco - What It Do
6 - Lupe Fiasco - I Gotcha (Kickdrums remix)
7 - Lupe Fiasco & The Commissioner Interlude...
8 - Lupe Fiasco - Mic Check
9 - Lupe Fiasco - Proper
10 - Lupe Fiasco - Kick Push (Live Band Mix)
11 - Lupe Fiasco Explains The It Was Written Mixtape...
12 - Lupe Fiasco & Nas - It Was Written (Mick Boogie Mix / Produced By Dart Parker)
13 - Lupe Fiasco - Tilted
14 - Lupe Fiasco, Ghostface, & Mike Shinoda - Spray Paint
15 - Lupe Fiasco & Evidence - Catch Me I'm Ballin'
16 - Lupe Fiasco Speaks On The Leak...
17 - Lupe Fiasco & Yummy Bingham - Much More
18 - Lupe Fiasco, Kanye & Joy Denalane - Change (Mick Boogie remix)
19 - Lupe Fiasco - We Love You
20 - Lupe Fiasco & Amanda Diva - Sunshine remix
21 - Lupe Fiasco & Reebok Interlude...
22 - Lupe Fiasco & I Monster - Daydream (Original Sample Mix)
23 - Lupe Fiasco & Naledge - Mean & Vicious
24 - Lupe Fiasco - Ghetto Story
25 - Lupe Fiasco - Get A Shirt
26 - Lupe Fiasco Speaks On Food & Liquor...
27 - Lupe Fiasco - Failure
28 - Lupe Fiasco - Ignorant Sh*t
29 - Lupe Fiasco - Outro
30 - Gemini - FNF Dynasty Part 2
31 - Gemini - Got What You Need
How To DOWNLOAD