The Come Up 18 - In The Hood Edition (DVD)
Submitted by trillondeck on Sun, 12/21/2008 - 9:27am.
General | Mixtape Torrents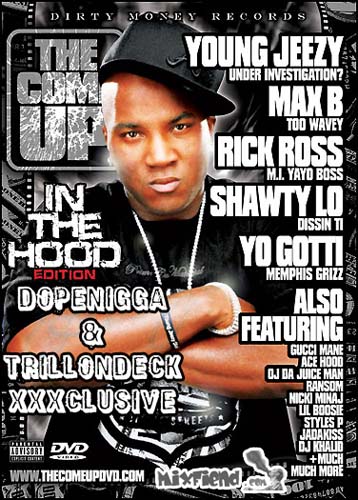 Download VLC Media Player (Free) to watch this DVD
The last time you heard from THE COME UP DVD was back in January of 2008 when Fendi & Dirty Money Records touched down with "The Come Up: Wayne's World." What was supposed to be his farewell / retirement piece, the Lil' Wayne edition DVD was probably the most popular Come Up DVD we've ever carried at MixUnit and the shit was definitely a classic.
But now it's nine months later and The Come Up DVD creator Fendi is back for some new money and he picked a hell of a time to come back. Shit is heating up just in time for the 4th quarter, so music and all that is just about to pop off. It's also dead in the middle of a recession, one of the worst economic droughts in a while (thank you George W).
So when all else fails, and all the money seems like it ain't moving, The Come Up DVD goes back to the hood to touch down with the realest players in hip-hop on this "In The Hood Edition" of The Come Up DVD. With an ear to the streets and a microphone in the face of all of your favorite artists, THE COME UP DVD #18 is back badder than ever on this new DVD.
Featuring appearances, features, exclusive footage, interviews, music videos and video freestyles from Young Jeezy, Gucci Mane, Max B, Rick Ross, Shawty Lo, Yo Gotti, Ace Hood & DJ Khaled, Nicki Minaj, Lil' Boosie, Ransom, Jadakiss Sheek & Styles P, Foxy Brown, Bloodraw, OJ Da Juiceman and more.
YOUNG JEEZY - Under Investigation? Speaks on why The Recession is causing gas and drug prices to sky-rocket, but he's still Mr. 17.5; A True Economy-Tested, Block Certified Hustler
MAX B - Too Wavy? So So Wavy: You Got To See It To Believe It
GUCCI MANE - Mr. Perfect! Shows off $2 million in jewelry...there is a reason they call your boy the So Icey kid.
LIL' BOOSIE - 3 Million Dollars in Jewelry: ALSO, Boosie counts $1 million dollars cash LIVE on The Come Up
JADAKISS - A Milli Bars: Takes you to the Yonkers hood where it all started and gives The Come Up A Millie bars
RICK ROSS - M.I. Yayo Boss: Ross clears the bullshit rumors about himself, sticks to his story.
SHAWTY LO - The Bankhead Boss: Live from Bankhead headquarters
YO GOTTI - Memphis Survivor: The Memphis Kid take The Come Up DVD to his hood in Tennessee and shows you how to get your grind up to win in this music game
NICKI MINAJ - Ms. Super Pussy: Speaks on why the sexy NY-bred emcee is the next Superwoman in hip-hop today.
Blood Raw - 10 minute LIVE Freestyle on 99JAMS.
Also featured in this issue: OJ Da Juice, Styles P, Ransom, Ace Hood, DJ Khaled, Foxy Brown and much more!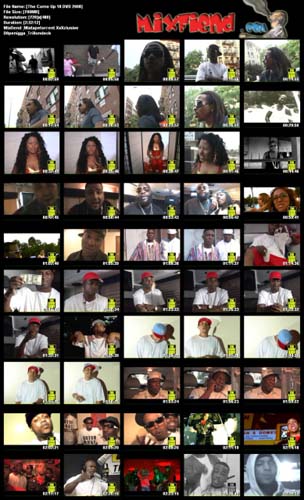 How To DOWNLOAD