Stat Quo - Underground Atlanta Vol 3
Submitted by SteveMan420 on Tue, 11/25/2008 - 7:04am.
Dirty South | DJ Drama | Mixtape Torrents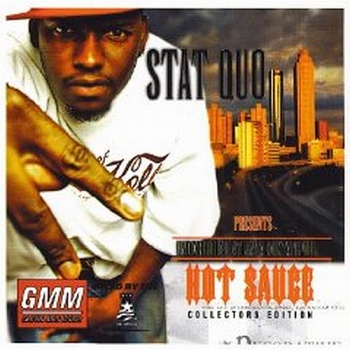 Stat Quo Mixtape From 2005
The Atlanta native Stat Quo is now signed to Shady-Aftermath Records . The mix tape is mixed by Atlantas own, The Aphiliates (DJ Drama of Gangsta Grillz mixtape fame, DJ Cannon of The AUC Mixtape) & features Bun B of UGK , 50 Cent, Lloyd Banks , Kanye West, The Game, LT Moe aka Buddy Boie & Nitro.
Mel Man , Dr.Dre, Midi Mafia, LT Moe, C Wiz and DJ Static provided production.
01. Eminem Intro
02. Im Stat
03. Prodigy Of Mobb Deep Speaks
04. U Aint Know Ft. Bun B
05. Problems
06. Y.O. New Sh!t
07. G'd Up Freestyle
08. The saga Continues Freestyle
09. Stat Quo Introduces LT Moe aka Buddy Boie & Nitro
10. Lil Flip Speaks
11. Ooh Drama Ft. Kanye West (Midi Mafia Exclusive)
12. Y.O. Duck tape
13. Badonka Freestyle
14. Get That Money Ft. 50 Cent & Lloyd Banks
15. David Banner Speaks
16. High beams (Mel Man Exclusive)
17. On Top Of My Game
18. Ridin Ft. Nitro
19. Chaka Zulu Speaks
20. Ho' harder
21. Dead president Freestyle
22. They Wanna Fight
23. Big Oomp Speaks
24. Stat Quo Freestyle
25. Knowin My Name
26. Devin The Dude Freestyle
27. Hustla Freestyle
28. Bottom Line Ft. The Game
29. Dj Jelly Speaks
30. Drama Freestyle
31. Yall Niggas
32. Money/Power
33. Y.O. New Ground
34. Outro
35. Freestyle Ft. Dr. Dre (BONUS)
How To DOWNLOAD