DJ Semi & Lloyd Banks - A South Side Story 2
Submitted by mfizzel on Mon, 08/07/2006 - 6:11pm.
East Coast | DJ Semi | Mixtape Torrents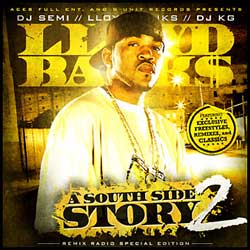 With the release of his latest mixtape Gang Green Season, Lloyd Banks
had the mixtape game revved up for his upcoming Rotten Apple sophomore
album from G-Unit.
But before the album drops later this year, DJ Semi compiled this
blends/remix compilation of the hottest shit from 'The Boy Wonder.'
Also featuring a gang of new material plus even a few classics,
this mixtape will help hold you over.
Lloyd even stops by to chop it up on the mixtape as he helps narrate
the 40-track Lloyd Banks experience. Blue Hef is back!

1 - Lloyd Banks aka. 'Blue Hefner' Speaks
2 - DJ Semi - Guess Who's Back (Intro)
3 - Somethin' Special (produced by Dirtpranos & DJ Semi)
4 - Got Me On My Shit (Freestyle) - DJ Semi feat. Lloyd Banks & 50 Cent
5 - Stay Out My Way
6 - License to Kill III feat. Mobb Deep & 50 Cent (DJ Semi Mix)
7 - Lloyd Banks Interlude
8 - My House feat. 50 Cent (produced by Timbaland)
9 - State to State
10 - Diamonds On My Neck feat. Tony Yayo (DJ Semi Mix)
11 - The Mixtape Champion (Freestyle)
12 - Don't Push Me feat. 50 Cent (South Side Mix)
13 - Ain't Got No Time
14 - Deep Cover Shit feat. Tony Yayo & Young Buck (DJ Semi Mix)
15 - Hands Up feat. 50 Cent
16 - Hunger Pains (Freestyle) – DJ Semi feat. Lloyd Banks
17 - Da Shiznit 2006 (DJ Semi Mix)
18 - 1970 Something
19 - Drop It Low feat. The Notorious B.I.G. (DJ Semi Mix)
20 - Keep It On The Low (Remix) feat. LL Cool J & 50 Cent
21 - Lamborghini Lloyd
22 - The South Side General (DJ Semi Mix)
23 - Classic Freestyle on Hot 97 w/ Funkmaster Flex
24 - You Got What I Want (South Side Mix)
25 - Take Me To Extasy feat. 50 Cent (DJ Semi Mix)
26 - The Reason You Smile feat. 50 Cent (DJ Semi Mix)
27 - If I Was Your Man
28 - Been So Many Places (DJ Semi Mix)
29 - Cake feat. 50 Cent
30 - Fuckin' Wit' Us feat. G-Unit & The Notorious B.I.G. (DJ Semi Mix)
31 - Shady/Aftermath's Stat Quo Speaks
32 - Get That Money feat. 50 Cent & Stat Quo
33 - My Hood, My City feat. Tony Yayo
34 - Wherever I Go feat. T.I. & 50 Cent (DJ Semi Mix)
35 - That's What's Up (classic verse)
36 - Put Em Up feat. DJ Whoo Kid (DJ Semi Mix)
37 - Why U Gotta Look So Good? feat. Mya
38 - I'm Alright feat. Avant (DJ Semi Mix)
39 - Full Time Bachelor (DJ Semi Mix)
40 - Lloyd Banks Outro ('Rotten Apple' Coming Soon!)
How To DOWNLOAD