Stat Quo - Underground Atlanta Vol. 4
Submitted by mfizzel on Fri, 08/11/2006 - 3:59pm.
Dirty South | Mixtape Torrents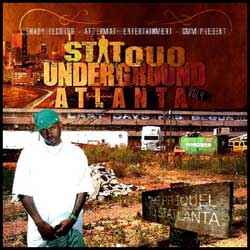 The Atlanta goldenchild Stat Quo came up
with a bang a couple years ago when he
dropped his Underground Atlanta mixtape series
and put himself on the map. Record label execs
soon came calling, including Shady Records'
Eminem and Dr. Dre.
No longer a part of just the underground, Stat
Quo is part of something bigger. With his debut
album Statlanta on the way and Stat busy with
Dre in the lab, this mixtape is a fresh look at
what A-Town's shadiest is up to.
This mixtape features exclusive tracks and
freestyles from Stat Quo and his Grown Man
Music co-founder/producer L.T. Moe.

1 - The Prequel
2 - You Already Know (produced by L.T. Moe)
3 - J Newt Shady Records Skit
4 - The Beast ft. Truth Hurts (produced by Bink)
5 - Billion Bucks (produced by L.T. Moe)
6 - The Letter 'A'
7 - (350 Speaks) A Letter To The Yard
8 - D & Malik Speak
9 - Let It Rain
10 - Get Doe Boy (produced by Da Cook Up)
11 - What You Gon Do ft. Hard Head Jacob
12 - Real Talk
13 - (J. Newt Skit) Beautiful
14 - by My Side (produced by Focus)
15 - Favorite Rapper
16 - Buddy Boie Exclusive - Grippin Grain (produced by L.T. Moe)
17 - Sweet Justice ft. Jill Scott
18 - (350 Speaks) What You Know About Stat
19 - Get Down
How To DOWNLOAD