Jay-Z, Nas Say They're Out To Show An Alternative To Battling
Submitted by mfizzel on Wed, 02/08/2006 - 2:46pm.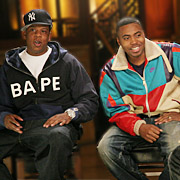 Newly united pair sit down with MTV News for their first interview together.
It's January in Connecticut, and although a few hundred people are all seeing the same thing, none of them can believe their eyes: Jay-Z and Nas — the two men who once engaged in arguably the greatest lyrical battle of all time — are standing together on top of the world. Figuratively, anyway.
Literally, the two are standing on a table in the Foxwoods Resort Casino's Hard Rock Cafe while a DJ plays songs by both hip-hop legends. "Girls, Girls, Girls" comes on and everyone is dancing. When "Made You Look" follows, nobody stops partying. The record spinner drops Jay's "Streets Is Watching," sending everyone into a euphoric frenzy. "Hate Me Now" comes on and shakes the building.
With smiles spreading and liquor flowing, Jay throws what appears to be a few thousand dollars into the crowd.
Unbelievable.
Jay and Nas went public with their behind-the-scenes animosity for each other in 2001 when Hov dropped "The Takeover" and Nas came back with "Ether." Although in recent years both have said they were done with the feud, they haven't exactly been eating Thanksgiving dinner at each other's houses.
Last October, Jay-Z and Nas were seen publicly together for the first time in almost 10 years, coming together twice onstage to declare unity. But this time it's different. It's been a couple of months since they first shocked the world, and now the alliance has become official: Nas is signed to Def Jam, and he and Jay are on the same team. Tonight at Foxwoods, they actually look like friends.
"We was there and vibing on the table," Jay recalled of his night of revelry with Nas and Island Def Jam employees and executives. As he spoke to MTV News' Sway, Nas was sitting right beside Jay. It was the first time the two had ever sat together for an interview. "It was so surreal," Hov continued. "I was looking at the crowd, and they was in shock. It wasn't planned. I didn't say, 'At 12:45 we're gonna get on the table and wild out together.' "
And while it's impossible to plan a special moment like that one, you also can't plan out the course of a relationship, he pointed out.
"It's not a date you can say, 'We're friends today,' " he explained, getting a big chuckle from Nas. "But you can say it's respect [between us], and from respect, anything is possible."
Nas agreed that even though he and President Carter were each other's toughest opponents in a war of words, they never lost respect for one another.
"In the midst of a battle, you never know how it's gonna turn out," Nas explained. "All you know is that you're gonna fight to the finish. In the middle of it, that's how it was. It was always respect, it wasn't that he wanted to gun me down or I wanted to gun him down. It was never that. That's not how real bosses move or real men move."
Now that Nas is officially partnering with Jay-Z, the two said, they'll definitely be working together — a duet at the very least is imminent.
"It's bigger than both of us," Jay said. "It's not really about us. I mean it is, but it really isn't. It's more about the culture, about showing people another way, because [the battle] we staged was something that stopped the world. Now everyone emulates the battle. 'If I do that, I can get attention drawn to me.' Now everyone is emulating the end result. So now we have to show them another way."
See more of this historic in-depth interview tonight on MTV News' "All Up in the Grammys," which begins at 7 p.m.
Source: www.MTV.com
How To DOWNLOAD